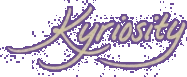 (KE'RE OS'I TE) N., A LONGING TO LOOK
INTO THE THINGS OF THE LORD [C.1996 < GK.
KYRIOS LORD + -ITY; IMIT. CURIOSITY]
Bio: Verily Valerie

Valerie is a 42-year-old, single, Reformed Christian lady who lives in Baltimore. She doesn't remember a time before she knew and loved Jesus, but she does remember accepting John Calvin into her heart in March of 2000. Valerie is a member of Christ Reformed Evangelical Church in Annapolis.

Though her career aspiration is to be a housewife, Valerie has not yet found anyone suitable who wishes to hire her for employment in that field (or, more properly, anyone suitable has not found her), so in the meantime she earns her daily bread working in communications -- editing, writing, print design and website management.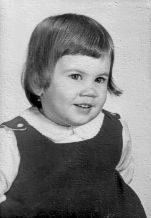 E-Mail
valerie [at] kyriosity [dot] com

AIM/YM
valkyriosity

My TTLB Ecosystem Details
Visit The Old Kyriosity Shop

Monday, April 28, 2008 AD
Happy Birthday, CREC!

My beloved congregation, Christ Reformed Evangelical Church (CREC) of Annapolis, Md., celebrated our tenth anniversary on Sunday. Here's the cake I made for the occasion:



Since the Confederation of Reformed Evangelical Churches (CREC), of which our congregation is a member, also turns 10 this year, the members of our extended family are welcome to share a virtual slice. Just remember, though: we're the CREC that was CREC before the CREC was CREC!

---

I took the leftovers (more than half the cake) to my office today. A colleague e-mailed to say, "Thanks for lugging such a sweet and heavy thing in here." I replied that I'm used to it, since I lug myself in every day! ;-)
Posted by Valerie (Kyriosity) at 7:09 PM • Permalink
• • 10 comments
Thursday, April 24, 2008 AD
My High Hills
Though the fig tree may not blossom,
Nor fruit be on the vines;
Though the labor of the olive may fail,
And the fields yield no food;
Though the flock may be cut off from the fold,
And there be no herd in the stalls --
Yet I will rejoice in the Lord,
I will joy in the God of my salvation.
The Lord God is my strength;
He will make my feet like deer's feet,
And He will make me walk on my high hills.

Habakkuk 3:17-19, NKJV
I'd never noticed before that the deer's feet were for walking on

my

high hills. One needs nimble feet for difficult terrain, so that's what I assume the high hills refers to. But they aren't some random or generic high hills, they're particularly

mine

-- part of the landscape of my life that is hand-crafted for me by my Creator. And there's no maybe regarding whether I'll be able to traverse them. He

will

make my feet nimble and He

will

cause me to reach the hills' summits.

And I think "I will rejoice" is as much claiming a promise as it is making a resolution. No one could make such a bold statement of confident faith without assurance of being empowered by God's grace to be joyful in adversity.
Posted by Valerie (Kyriosity) at 3:10 PM • Permalink
• • 2 comments
Tuesday, April 22, 2008 AD
Violent Requests in My Gmail Inbox

Posted by Valerie (Kyriosity) at 4:06 PM • Permalink
• • 1 comments
Friday, April 11, 2008 AD
'Tell Me the Gospel'

Several years ago, a friend and I were lazing on the grass outside the office of my former church. I can't remember exactly what we were discussing, but I must have been discouraged about something, because I asked her, "Tell me the gospel."

Her reaction was so strange to me. "No!" she said, clearly upset that I had asked. "You know that! You don't need me to tell you!" She took it as the question of an unbeliever...as if I were doubting my salvation.

But "those who know it best seem hungering and thirsting to hear it like the rest," and I can't imagine ever losing my appetite for it. Am I struggling? I need to be reminded that Christ has paid for my sin. Am I thriving? I need to be reminded that I am utterly dependent on Him.

Of course I need to preach the gospel to myself as well, but it's especially helpful to hear it from others. Surely that's the crux of what it means to encourage one another daily. Surely that's our safest defense and our sharpest weapon against our enemies. Surely it is the message that is never amiss.

I love covenant renewal worship precisely because I can count on hearing (and tasting and seeing) the gospel at least once a week. But I wouldn't mind hearing it more often. So if you're ever at a loss for words, or trying to think of a good deed for the day, or just bored and looking for something to do, tell me (or somebody else) the gospel!
Posted by Valerie (Kyriosity) at 1:46 PM • Permalink
• • 1 comments
Tuesday, April 8, 2008 AD
Convicted

This post pierced me to the core.
Posted by Valerie (Kyriosity) at 11:14 PM • Permalink
• • 2 comments
The Trouble with Reorginizing the Kitchen...

...in a house where you've lived all your life is that years (perhaps even a decade) later, you're still looking for plates in the cupboard where they

used

to be.
Posted by Valerie (Kyriosity) at 5:36 AM • Permalink
• • 0 comments
With Great Power Comes Great Responsibility

And with even a little bit of responsibility comes great likelihood of waking up at four-something in the morning remembering an e-mail you should have sent four or five days ago.
Posted by Valerie (Kyriosity) at 5:09 AM • Permalink
• • 6 comments
Saturday, April 5, 2008 AD
Would It Be Really Tacky...

...to replace all of my decrepit, rickety, mostly broken dining room chairs with folding chairs? I've already got four of these for my overflow table, so if I bought a bunch more, at least they'd all match. Someday maybe I'll be able to replace all my dining room furniture, which is in pretty bad shape (or at least get it refinished), but I can't do that right now, so it would seem silly to buy "real" chairs that wouldn't match anything else. But even though the chairs I have are in bad shape, would folding chairs be a step backward?
Posted by Valerie (Kyriosity) at 10:06 AM • Permalink
• • 6 comments
Friday, April 4, 2008 AD
'Please Sir, May I Have Some More?'
What shall I render to the LORD
For all His benefits toward me?
I will take up the cup of salvation,
And call upon the name of the LORD.
What's the way to show gratitude to God? Receive what He gives and ask for more. He wants our utter dependence. He wants our acknowledgment of our utter dependence. God helps those who quit trying to help themselves.
Posted by Valerie (Kyriosity) at 6:27 PM • Permalink
• • 1 comments
Tuesday, April 1, 2008 AD
A Rather Dull April Fools' Day

After having had some weird medical stuff over the last week, and missing work yesterday and going to a doctor's appointment, I seriously considered coming in and telling my supervisor I was pregnant. But I just couldn't do it. The health stuff (though the weird part turned out to be minor), was worrisome enough that I just didn't feel like joking about it. And the fatigue's been significant enough that I wasn't up to creating any foolishness today. So I'm off to take iron pills and antibiotics and sleep. Besides...nobody would have believed the part about the angel Gabriel, anyway. ;-)

How 'bout you, oh readers who so seldom leave comments anymore? Any jokes pulled or pranks perpetrated upon you or by you?
Posted by Valerie (Kyriosity) at 9:43 PM • Permalink
• • 5 comments
---