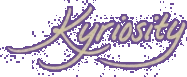 (KE'RE OS'I TE) N., A LONGING TO LOOK
INTO THE THINGS OF THE LORD [C.1996 < GK.
KYRIOS LORD + -ITY; IMIT. CURIOSITY]
Bio: Verily Valerie

Valerie is a 42-year-old, single, Reformed Christian lady who lives in Baltimore. She doesn't remember a time before she knew and loved Jesus, but she does remember accepting John Calvin into her heart in March of 2000. Valerie is a member of Christ Reformed Evangelical Church in Annapolis.

Though her career aspiration is to be a housewife, Valerie has not yet found anyone suitable who wishes to hire her for employment in that field (or, more properly, anyone suitable has not found her), so in the meantime she earns her daily bread working in communications -- editing, writing, print design and website management.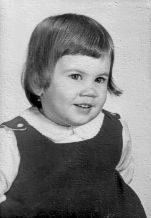 E-Mail
valerie [at] kyriosity [dot] com

AIM/YM
valkyriosity

My TTLB Ecosystem Details
Visit The Old Kyriosity Shop

Friday, November 30, 2007 AD
What Would Jesus Dig?

In his sermon from this past Sunday, Doug Wilson, in addressing working as to the Lord, noted that when an employer assigns a seemingly foolish task, say, digging a hole

here

, we are to assume that Jesus wants that hole dug there, and do it cheerfully. This week, Jesus also seems to dig micromanagement. Well...time to just be cheerfully micromanaged to His glory, then!
Posted by Valerie (Kyriosity) at 3:59 PM • Permalink
• • 1 comments
Thursday, November 29, 2007 AD
Magistra Mater's ALL Meme

Carol has noted that today is the birthday of Louisa May Alcott, C.S. Lewis and Madeleine L'Engle, and has concocted a celebratory meme, which follows with my responses:

1. What was the first [Alcott, Lewis, L'Engle] book you read?

The obvious ones:

Little Woman; The Lion, the Witch and the Wardrobe; A Wrinkle in Time

. And I think all in 5th and 6th grade.

2. If you could be a [Alcott, Lewis, L'Engle] character for a day, who would you be?

Beth in

Little Women

, dying a young, tragic death. OK, not so much the young, tragic death, but her contentedness to be at home while the others traipsed the world.

Lucy in

Prince Caspian

, just to feel Aslan's breath and hear him say, "Courage, dear heart."

I don't have a ready answer for L'Engle.

3. Do you prefer [Alcott?, Lewis, L'Engle]'s fiction or nonfiction?

OK, so the

only

Alcott I've ever read is

Little Women

, and I think I only read it the one time in 5th grade, so I confess my knowledge of it is quite film-based.

Lewis -- Narnia. Not that I don't like everything else I've read by him, too, but nothing matches Narnia.

L'Engle -- Anything where her theology didn't veer off into La-La Land. The Time Trilogy and the Crosswick Journals are probably the ones I liked best when reading them, though I'm sure they were wonky at times.

4. Which [Alcott, Lewis, L'Engle] book would you recommend to any reader?

Have I mentioned Narnia lately?

5. Which [Alcott, Lewis, L'Engle] book did you dislike?

L'Engle --

A House Like a Lotus

. See my previous comment about her theology. In this case it was "whatever two people do in the privacy of their own home is just hunky-dory" nonsense.

6. What is your favorite [Alcott, Lewis, L'Engle] quote?

Many from Lewis, but the one that pops into my head (because I recently had occasion to reference it in conversation) is from

Out of the Silent Planet

: "She was of that school of British innkeepers that regards guests as a nuisance." Still tickles me 20+ years after the first time I read it.

7. Which [Alcott, Lewis, L'Engle] book would you like to read next?

I can't say I have designs on any of them in the near future.

8. What biography of [Alcott, Lewis, L'Engle] would you recommend?

Would it be cheating to say

Surprised by Joy

?

9. Rate the ALL authors by order of preference.

Lewis, L'Engle, Alcott

Let's see your responses in the comments or on your blog!
Posted by Valerie (Kyriosity) at 10:33 PM • Permalink
• • 3 comments
Saturday, November 17, 2007 AD
Is There a Word for It?

The Lord is omnipotent, omniscient, and omnipresent -- He has every power, knows everything and is everywhere. But is there a word that indicates He is every

when

? He

is

the same yesterday, today and forever. And all at the same time He was and is and is to come. Time is His creation. He isn't waiting for the future to happen -- He has already created it. And the past isn't a distant, lost memory to Him.

This is hard for us to grasp because we must travel through time one point after another. But He sees every point at once -- none is more distant than the others to Him, because all are in Him. I picture all of history lined up on His mantelpiece. And I want a nice, tidy omni- word to pin on His relation to it. Since the other omnis are Latin-derived, I'm going to go with

omnitemporal

'til someone tells me otherwise. And if there is an otherwise, I hope somebody

will

tell me!
Posted by Valerie (Kyriosity) at 7:46 AM • Permalink
• • 7 comments
Wednesday, November 14, 2007 AD
You Get More of What You Subsidize

I liked this story about encouragement (even if it is about hockey, too).
Fran Tarkenton, former Minnesota Vikings quarterback, once called a play that required him to block onrushing tacklers. NFL quarterbacks almost never block. They're usually vastly outweighed by defenders, so blocking exposes them to the risk of severe injury. But the team was behind, and a surprise play was needed. Tarkenton went in to block, and the runner scored a touchdown. The Vikings won the game.

Watching the game films with the team the next day, Tarkenton expected a big pat on the back for what he'd done. It never came. After the meeting, Tarkenton approached coach Bud Grant and asked, "You saw my block, didn't you, Coach? How come you didn't say anything about it?"

Grant replied, "Sure, I saw the block. It was great. But you're always working hard out there, Fran. I figured I didn't have to tell you."

"Well," Tarkenton replied, "if you ever want me to block again, you do!"

(Source)
I think it is part of our worship of God to recognize His work in and through others. Perhaps we worry too much that it'll go to their heads if we tell

them

about it, but we really do need each other's objective perspective on both the good fruit and the bad fruit in our lives. God works through His saints to encourage His saints to produce more of the good and less of the bad.
Posted by Valerie (Kyriosity) at 10:52 AM • Permalink
• • 6 comments
Tuesday, November 13, 2007 AD
Unexpected Housework Inspiration

Got a call from the hospital saying they'd admitted my father. The medical reason was hypertension. The real reason was that the police brought him in because his house needs to be condemned.

Social Worker: "It was absolutely filthy. Did you know he was living like that?"

Valerie: "Well, it doesn't surprise me, because that's how he lived in his last house, which I attempted to clean out ten years ago."

I explain to her that this is how he has chosen to live. She tells me that a psychiatrist will be seeing him tomorrow ("That should be interesting," sez I) to determine whether he is competent, and that if he is found incompetent, someone will need to make decisions for him. I tell her his brother usually handles these things. She reports that he referred her to us.

So...Uncle Ben finally threw in the towel. And my number was probably the only one he had to give her, so she called me first. The elder of my brothers is an attorney, so I figure he'd better be in this with me for the technical end of things, but he's got some serious health issues himself, so I know he can't handle a lot of extra burdens. I gave the social worker his number. The younger of my brothers (though still elder than I) I told her not to bother to call. He has not seen or spoken to Dad in probably more than a quarter of a century, and this isn't likely to change things.

I suppose there's a chance they could find him competent, and this cup would pass from me, at least for now, but I think it's more likely that I'll have to shoulder this burden sooner rather than later. If we decided to wash our hands of it and leave him to the tender mercies of the state, it wouldn't be any worse than he deserves, but then there's that pesky Fifth Commandment. (Pesky, of course, in an "Oh how I love Thy law!" kind of way.)

In the meantime, I'm suddenly inspired to go wash my dishes. "There but for the grace of God go I" becomes starkly clear at moments like this. "The sins of the fathers are visited upon the sons." I am my father's child. I have a great horror of ending up where he is, and of deserving it just as much. I fear that the grace that's allowed me to squeak by thus far will run out. I know...faithless little git.

So now I'm rather inspired to go wash my dishes. My kitchen's not quite ready to be condemned, but it is gettin' a little scary in there.

Hope I haven't broken blogging rule #2 here....
Posted by Valerie (Kyriosity) at 5:39 PM • Permalink
• • 10 comments
Saturday, November 10, 2007 AD
How to Be a Houseguest

Tip #37: Ask your hostess how her shower works

before

you are standing in the bathtub in a very vulnerable state pushing, pulling, prodding and pleading with every bit of plumbing apparatus you see to no avail.

Tip #38: If you forget Tip #37, be bold enough to holler (once you hear the shower stop in your hostess's bathroom), "Joyce! How do I turn this thing on?"

Tip #39: If you hostess's name is not Joyce, edit Tip #38 as appropriate.

Tip #40: Since you still won't be able to figure it out with verbal directions, get redressed before implementing Tip #38, because she'll have to come in and show you.

Tip #41: When your hostess tells you that her eldest son was laughing in his room across the hall because he could guess your dilemma from the sound of the running water, yet he didn't bother to holler directions, plan to smack him upside the head next time you see him.

Tip #42: Don't ever visit people who don't have a good sense of humor!
Posted by Valerie (Kyriosity) at 11:58 AM • Permalink
• • 5 comments
Tuesday, November 6, 2007 AD
A Blatant Error from Doug Wilson

So I'm listening to a sermon (from this series), and Pastor Wilson says, "The text this morning is the thirty-second Psalm," but then he takes

over a minute

to read it!
Posted by Valerie (Kyriosity) at 12:53 PM • Permalink
• • 4 comments
Saturday, November 3, 2007 AD
Don't Have a Cow, Man

Somewhere along the way I acquired a pen advertising an osteoporosis medication called Boniva. Unfortunately, every time I look at it, my mind reads it as

Bovina

. I wonder if veterinary pharmaceutical reps hand out tchotchkes, too.
Posted by Valerie (Kyriosity) at 3:33 PM • Permalink
• • 3 comments
These Are a Few of My Favorite Cakes

I've gotten a little obsessed with browsing for cake photos on flickr. Here is my collection of favorites.
Posted by Valerie (Kyriosity) at 3:16 PM • Permalink
• • 2 comments
---