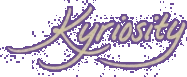 (KE'RE OS'I TE) N., A LONGING TO LOOK
INTO THE THINGS OF THE LORD [C.1996 < GK.
KYRIOS LORD + -ITY; IMIT. CURIOSITY]
Bio: Verily Valerie

Valerie is a 42-year-old, single, Reformed Christian lady who lives in Baltimore. She doesn't remember a time before she knew and loved Jesus, but she does remember accepting John Calvin into her heart in March of 2000. Valerie is a member of Christ Reformed Evangelical Church in Annapolis.

Though her career aspiration is to be a housewife, Valerie has not yet found anyone suitable who wishes to hire her for employment in that field (or, more properly, anyone suitable has not found her), so in the meantime she earns her daily bread working in communications -- editing, writing, print design and website management.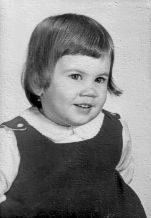 E-Mail
valerie [at] kyriosity [dot] com

AIM/YM
valkyriosity

My TTLB Ecosystem Details
Visit The Old Kyriosity Shop

Wednesday, March 19, 2008 AD
A Rant Against Relativism...from 'ER,' of All Places




For the record, the "rite of penance" never crossed my mind (but thanks for the link anyway, Dawn *wink*). The

gospel

of salvation by grace through faith in the atoning sacrifice of Jesus Christ most certainly did. That faith "comes by hearing, and hearing by the Word of God" (Romans 10:17) and "How then shall they call on Him in whom they have not believed? And how shall they believe in Him of whom they have not heard? And how shall they hear without a preacher?" (Romans 10:14).

That

is the role a real representative of the real God would provide for a dying man. And we are all dying men until we have received forgiveness and new life in Christ!
Posted by Valerie (Kyriosity) at 11:02 PM • Permalink
• • 1 comments
---
1 Comments:
On March 20, 2008 1:55 AM

nonnobis1 wrote...
It's nice to see Reiko Aylesworth on TV again, she's a fine young actress (very familiar face in our house, as we are all rabid '24' fans, and bewailed her exit from that show).

I'm always pleased to see themes like this explored on BigTime tv. This scene reminded me of a couple of different episodes in HBO's excellent 'Six Feet Under' (the entire series' five-year run is available now on DVD). 6FU is the darkest of dark comedies, and the material is definitely not for the weak of stomach. But the writers of the show (for all of their seeming worldliness) often touch on interesting explorations of what has been called "the examined life." It's still the only primetime show I've ever seen where one of the main characters quoted C.S. Lewis, and another episode (albeit perhaps unintentionally) communicated one of the strongest pro-life messages I've ever seen on television. Ever.

---
---