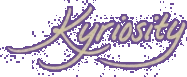 (KE'RE OS'I TE) N., A LONGING TO LOOK
INTO THE THINGS OF THE LORD [C.1996 < GK.
KYRIOS LORD + -ITY; IMIT. CURIOSITY]
Bio: Verily Valerie

Valerie is a 42-year-old, single, Reformed Christian lady who lives in Baltimore. She doesn't remember a time before she knew and loved Jesus, but she does remember accepting John Calvin into her heart in March of 2000. Valerie is a member of Christ Reformed Evangelical Church in Annapolis.

Though her career aspiration is to be a housewife, Valerie has not yet found anyone suitable who wishes to hire her for employment in that field (or, more properly, anyone suitable has not found her), so in the meantime she earns her daily bread working in communications -- editing, writing, print design and website management.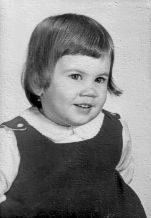 E-Mail
valerie [at] kyriosity [dot] com

AIM/YM
valkyriosity

My TTLB Ecosystem Details
Visit The Old Kyriosity Shop

Wednesday, August 8, 2007 AD
A Recipe

I typed this out for someone else, and thought it might as well do double-duty as a blog post:



Italian Dressing


1 c extra virgin olive oil
.25 c red wine vinegar
2 T finely chopped onion (I usually just put in 1 T onion flakes because I hate chopping onions!)
1 t salt
1 t sugar
1 t dry mustard
1 t dried basil leaves
.5 t dried oregano leaves
.25 t pepper
2 cloves garlic, chopped

Shake ingredients together; refrigerate at least 2 hours; shake before serving. For a creamy version, beat .5 c of this dressing with .5 c mayonnaise 'til smooth.
Posted by Valerie (Kyriosity) at 11:55 AM • Permalink
• • 0 comments
---
0 Comments:
---
---