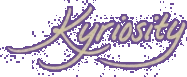 (KE'RE OS'I TE) N., A LONGING TO LOOK
INTO THE THINGS OF THE LORD [C.1996 < GK.
KYRIOS LORD + -ITY; IMIT. CURIOSITY]
Bio: Verily Valerie

Valerie is a 42-year-old, single, Reformed Christian lady who lives in Baltimore. She doesn't remember a time before she knew and loved Jesus, but she does remember accepting John Calvin into her heart in March of 2000. Valerie is a member of Christ Reformed Evangelical Church in Annapolis.

Though her career aspiration is to be a housewife, Valerie has not yet found anyone suitable who wishes to hire her for employment in that field (or, more properly, anyone suitable has not found her), so in the meantime she earns her daily bread working in communications -- editing, writing, print design and website management.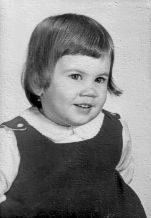 E-Mail
valerie [at] kyriosity [dot] com

AIM/YM
valkyriosity

My TTLB Ecosystem Details
Visit The Old Kyriosity Shop

Thursday, August 16, 2007 AD
My Secret Ambition

On my wish list of things I'd like to have time to learn is type design. I actually got some font creation software (at work), I think over a year ago, but have never found time to play with it. At my last job, I did create one character set of a few versions of our logo and other oft-used dingbats using my illustration software. I would like to do the same thing for my current workplace. Right now I place my newsletter-article-ending dingbat manually as a separate graphic in Quark, which is inconsistent and creates the risk of nonsensical placement were a text box or picture box to get even a little displaced. But of course I'd like, ultimately, to create whole alphabetic typesets.

Anyway, these thoughts were prompted by This article about road signage, which I found exhilarating, though I suspect it will bore most of my readers....
Posted by Valerie (Kyriosity) at 8:44 AM • Permalink
• • 0 comments
---
0 Comments:
---
---