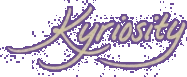 (KE'RE OS'I TE) N., A LONGING TO LOOK
INTO THE THINGS OF THE LORD [C.1996 < GK.
KYRIOS LORD + -ITY; IMIT. CURIOSITY]
Bio: Verily Valerie

Valerie is a 42-year-old, single, Reformed Christian lady who lives in Baltimore. She doesn't remember a time before she knew and loved Jesus, but she does remember accepting John Calvin into her heart in March of 2000. Valerie is a member of Christ Reformed Evangelical Church in Annapolis.

Though her career aspiration is to be a housewife, Valerie has not yet found anyone suitable who wishes to hire her for employment in that field (or, more properly, anyone suitable has not found her), so in the meantime she earns her daily bread working in communications -- editing, writing, print design and website management.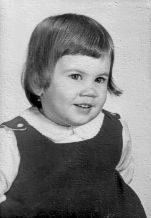 E-Mail
valerie [at] kyriosity [dot] com

AIM/YM
valkyriosity

My TTLB Ecosystem Details
Visit The Old Kyriosity Shop

Thursday, August 23, 2007 AD
I Really Don't Recommend a Synthesis of My Last Two Posts

Because my kitchen's been all baking-crazy today, I haven't prepared any meals. And there wasn't really anything around to eat that doesn't require preparation except a handful of crackers at the bottom of a box, which I ate. So I've pretty much been fasting today with the exception of cake batter and cream cheese frosting. I don't think the resultant queasiness is

quite

the sort of suffering that's intended in biblical fasting....
Posted by Valerie (Kyriosity) at 5:10 PM • Permalink
• • 1 comments
---
1 Comments:
On August 24, 2007 8:08 PM

pentamom wrote...
If you can go on a water-only fast, why not a cake-ingredient only fast?

I mean, really! WHY not?

;-)

---
---