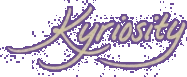 (KE'RE OS'I TE) N., A LONGING TO LOOK
INTO THE THINGS OF THE LORD [C.1996 < GK.
KYRIOS LORD + -ITY; IMIT. CURIOSITY]
Bio: Verily Valerie

Valerie is a 42-year-old, single, Reformed Christian lady who lives in Baltimore. She doesn't remember a time before she knew and loved Jesus, but she does remember accepting John Calvin into her heart in March of 2000. Valerie is a member of Christ Reformed Evangelical Church in Annapolis.

Though her career aspiration is to be a housewife, Valerie has not yet found anyone suitable who wishes to hire her for employment in that field (or, more properly, anyone suitable has not found her), so in the meantime she earns her daily bread working in communications -- editing, writing, print design and website management.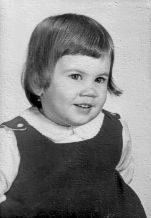 E-Mail
valerie [at] kyriosity [dot] com

AIM/YM
valkyriosity

My TTLB Ecosystem Details
Visit The Old Kyriosity Shop

Thursday, August 2, 2007 AD
For That Matter, What Do We Think He's Saying to Us Today?

Mark Horne has a winner with this post: What do Christians think God will say to us on the Last Day?

When oh when will I get the gospel through my thick head? He

loves

us. He is

kind

to us. He is

gentle

with us. He

delights

in us. He

rejoices

over us. He is not resentful or capricious or miserly or sadistic or any of the other things I'm so often imagining Him to be. He is so gracious He even forgives such idiotic thoughts!
Posted by Valerie (Kyriosity) at 11:16 PM • Permalink
• • 1 comments
---
1 Comments:
On August 3, 2007 12:37 PM

pentamom wrote...
We have a signed copy of one of Keith Mathison's books. When he signed it, he included a reference to Zephaniah 3:17 (everybody's life verse, right?)

I was totally blown away when I looked it up and read it. THAT is what He thinks of us.

---
---