Sunday, July 1, 2007 AD
Me As a Simpsons Character

I had to 'shop it a bit to add earrings, turn the pants into a skirt, and make the mouth a little more smiley: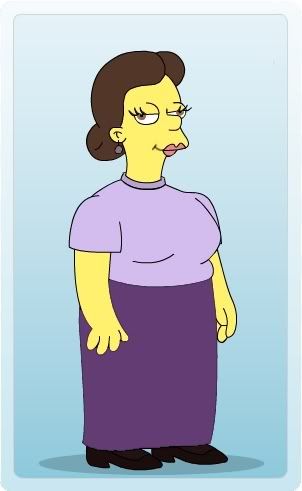 Make yours at the Simpsons Movie website. (HT Paulo, font of all frivolous linkage.)
Posted by Valerie (Kyriosity) at 8:32 AM • Permalink
• • 6 comments
---
6 Comments:
On July 2, 2007 8:41 AM

Anonymous wrote...
See a doctor about that jaundice, dearie! ~Eleanor

On July 2, 2007 11:09 AM

Kimberly wrote...
You're so cute.I gotta go see if I turn out cute.I'm glad you don't have hair like Marge or her sisters.Yikes.

On July 2, 2007 11:54 PM

Valerie (Kyriosity) wrote...
It isn't quite fair, is it, Eleanor, that brown-skinned people in the Simpsons world get to have nice, normal brown skin, but white people get stuck with various shades of yellow.

Be sure to post yours when you do it, Kimberly!

On July 3, 2007 2:58 PM

pentamom wrote...
Well, there is a pure white, which is what I used. That's actually pretty close to my coloring anyway.

I didn't bother to create an account and save it, but it's creepy how much I could make it look like myself, in a Simpsonish sort of way.

On July 3, 2007 10:12 PM

Valerie (Kyriosity) wrote...
I didn't create an account, either...just did a screenshot and some creative cropping.

On July 17, 2007 7:10 AM

Michael wrote...
Hi Valerie,

Thanks for the link; The Simpsons is my favourite cartoon. I like your purple skirt...and that's cool how you went to the effort of 'shopping it :)

I also thought it was interesting how your wrote your bio in the second person—but I like what you said.

---