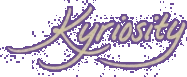 (KE'RE OS'I TE) N., A LONGING TO LOOK
INTO THE THINGS OF THE LORD [C.1996 < GK.
KYRIOS LORD + -ITY; IMIT. CURIOSITY]
Bio: Verily Valerie

Valerie is a 42-year-old, single, Reformed Christian lady who lives in Baltimore. She doesn't remember a time before she knew and loved Jesus, but she does remember accepting John Calvin into her heart in March of 2000. Valerie is a member of Christ Reformed Evangelical Church in Annapolis.

Though her career aspiration is to be a housewife, Valerie has not yet found anyone suitable who wishes to hire her for employment in that field (or, more properly, anyone suitable has not found her), so in the meantime she earns her daily bread working in communications -- editing, writing, print design and website management.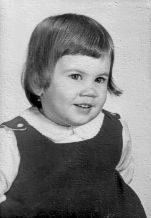 E-Mail
valerie [at] kyriosity [dot] com

AIM/YM
valkyriosity

My TTLB Ecosystem Details
Visit The Old Kyriosity Shop

Thursday, July 19, 2007 AD
Let's Start At the Very Beginning...a Very Good Place to Start

Lifted from Femina:
It is a hard lesson. You know that when a child is first taught, he complains: This is hard; it is just like that. I remember Bradford the martyr said, 'Whoever has not learned the lesson of the cross, has not learned his ABC in Christianity.' This is where Christ begins with his scholars, and those in the lowest form must begin with this; if you mean to be Christians at all, you must buckle to this or you can never be Christians. Just as no-one can be a scholar unless he learns his ABC, so you must learn the lesson of self-denial or you can never become a scholar in Christ's school, and be learned in this mystery of contentment. That is the first lesson that Christ teaches any soul, self-denial, which brings contentment, which brings down and softens a man's heart.

~Jeremiah Burroughs,

The Rare Jewel of Christian Contentment
I imagine learning to read would also be harder at 40 than at 4.
Posted by Valerie (Kyriosity) at 4:38 PM • Permalink
• • 0 comments
---
0 Comments:
---
---