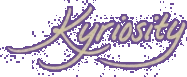 (KE'RE OS'I TE) N., A LONGING TO LOOK
INTO THE THINGS OF THE LORD [C.1996 < GK.
KYRIOS LORD + -ITY; IMIT. CURIOSITY]
Visit The Old Kyriosity Shop

Sunday, August 01, 2004 AD

Capezza Wedding Pictures!
For all who have been waiting, here are selections from R&R's special day. And boy to I feel like the cat who got the canary to be the one to get to post them! Don't cry, Barb. It's just an expression. No canaries were harmed in the posting of these photos. ;-)

I'd appreciate it if Rick's and Rachel's other friends could propogate this link on their blogs, since I suspect that more folks would like to see it than read mine.
Posted by Valerie (Kyriosity) at 8/01/2004 08:37:00 AM • • Permalink
---
Links to this post:
---
Home