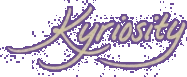 (KE'RE OS'I TE) N., A LONGING TO LOOK
INTO THE THINGS OF THE LORD [C.1996 < GK.
KYRIOS LORD + -ITY; IMIT. CURIOSITY]
Bio: Verily Valerie

Valerie is a 42-year-old, single, Reformed Christian lady who lives in Baltimore. She doesn't remember a time before she knew and loved Jesus, but she does remember accepting John Calvin into her heart in March of 2000. Valerie is a member of Christ Reformed Evangelical Church in Annapolis.

Though her career aspiration is to be a housewife, Valerie has not yet found anyone suitable who wishes to hire her for employment in that field (or, more properly, anyone suitable has not found her), so in the meantime she earns her daily bread working in communications -- editing, writing, print design and website management.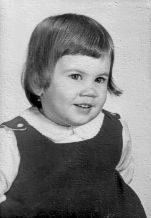 E-Mail
valerie [at] kyriosity [dot] com

AIM/YM
valkyriosity

My TTLB Ecosystem Details
Visit The Old Kyriosity Shop

Wednesday, January 20, 2010 AD
Don't Gimme No Lip!

Dear cake stand manufacturers,

Putting a lip on a cake stand makes it difficult to cut and serve the cake. Knock it off.

Regards,

~Valerie
Posted by Valerie (Kyriosity) at 8:50 PM • Permalink
• • 2 comments
Friday, January 8, 2010 AD
Who Would Do Such a Thing?
Posted by Valerie (Kyriosity) at 9:22 PM • Permalink
• • 3 comments
Sunday, January 3, 2010 AD
New Year's Resolutions

Besides using the prayer guide (mentioned below), I have two other resolutions this year:
No complaining in my Facebook status. All status updates must express gratitude, blessedness, joy, and the like. This little discipline addresses two birds with one stone: ingratitude and unedifying speech.
Curtail my use of exclamation points and emoticons. Again, an attempt at monolithic biavicide: bad writing and undisciplined emotionalism.
Posted by Valerie (Kyriosity) at 10:23 PM • Permalink
• • 4 comments
Friday, January 1, 2010 AD
Help Me Arrange My Wall

Which arrangement do you like best? Or do you hate them all and think I should either start from scratch or not try to cram so many pieces into such a small space?

(Click for larger image.)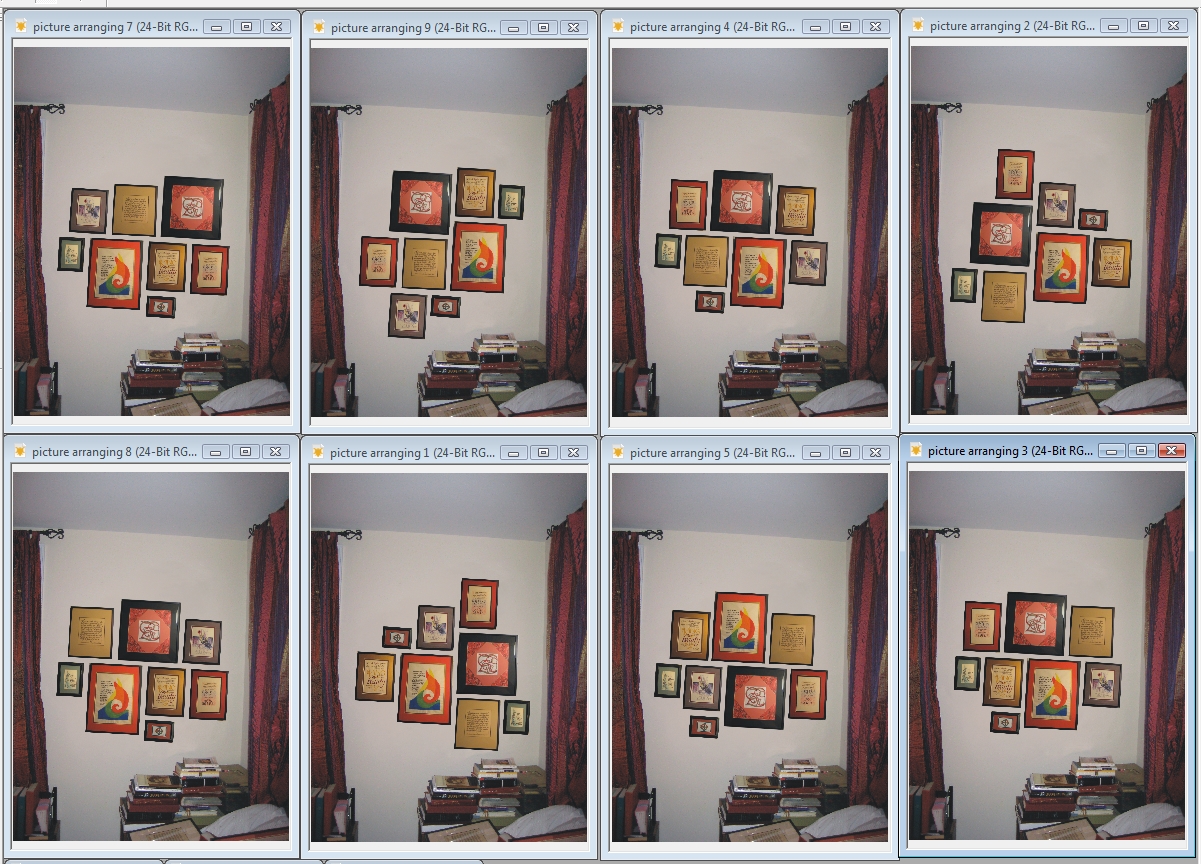 Posted by Valerie (Kyriosity) at 11:23 PM • Permalink
• • 14 comments
Bedspread in Situ

Here's the completed bedspread on mom's bed. (Click on photo to view larger.) I also made the afghan at the foot of the bed about 20 years ago (well...started it 20 years ago and finished it probably 10 years ago).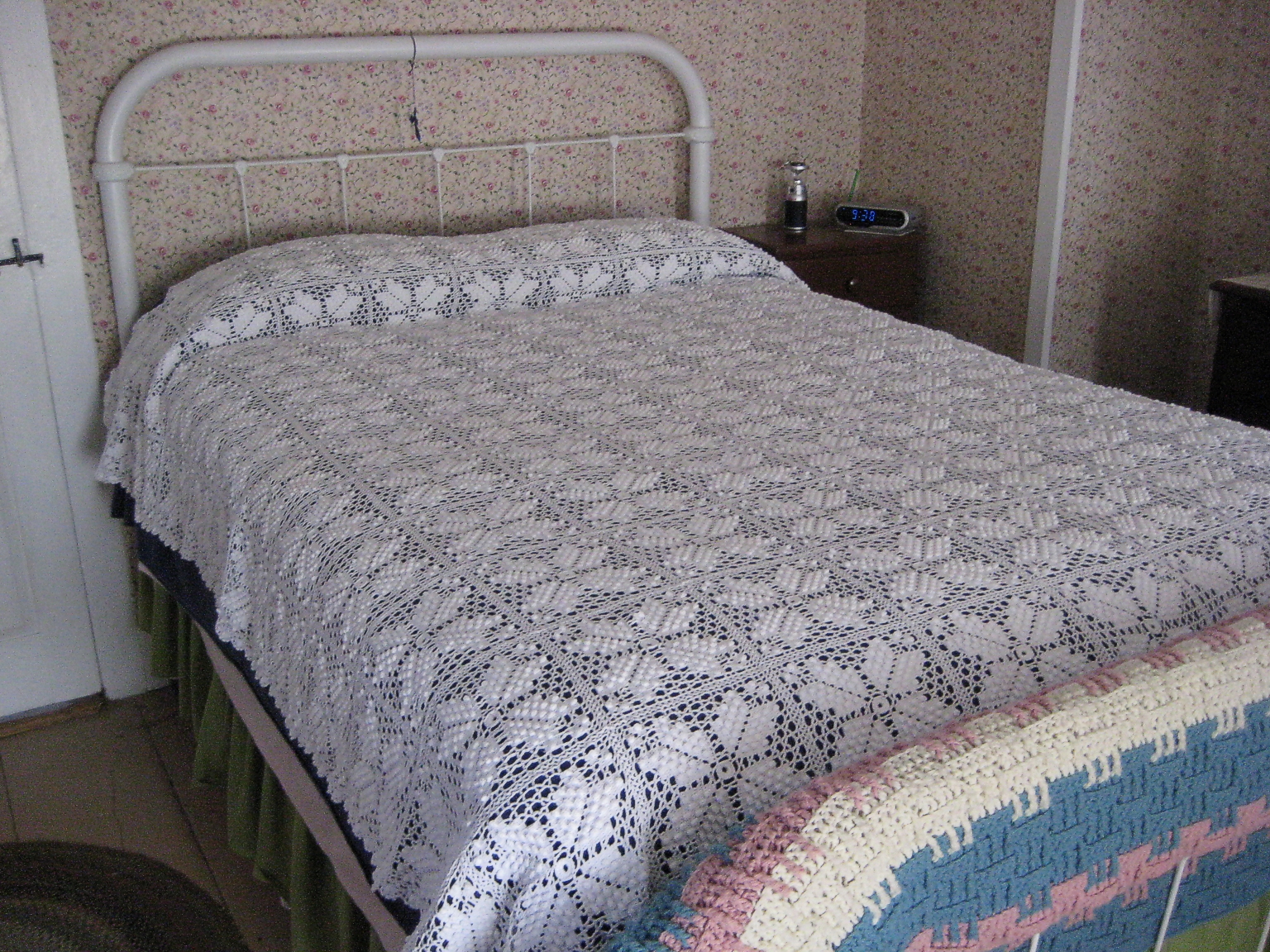 I was a little disappointed in the size. I went by the pattern, but I should have actually measured a bedspread and adjusted for reality. I'd have liked it to be one row of squares wider and one row longer. But no, I won't be going back to fix it!

At Thanksgiving Mom asked my cousin's husband, Herb, who has been a volunteer firefighter for decades, if he would tell her how to use a fire extinguisher if the need arose. Herb replied, "Here's how: First, grab the fire extinguisher...and then get the hell out of the house, because this place would go up like a tinderbox." (It's an all-wood farmhouse dating to the 18th century.) I insisted that she had to grab the bedspread, too, and we all agreed that she should also grab all the money she has stuffed under the mattress.* The bedspread would, of course, be a convenient way to carry it.



*Note to would-be thieves: My mother is poor as a church mouse, and hasn't really got a cent stashed under the mattress or anyplace else.
Posted by Valerie (Kyriosity) at 10:06 AM • Permalink
• • 0 comments
Prayer Guide

This time last year I was intending to settling into the habit of using a personal prayer guide I'd constructed out of selections from Scripture, the Book of Common Prayer, other sources, and my own head. I wrote about it here. The basic format is a selection of prayers for each day based on the acronym ARTIST:
Adoration (praising God for who He is)
Repentance (confessing my sin and receiving His forgiveness)
Thanksgiving (acknowledging what God has done)
Intercession (requests for others)
Supplication (requests for myself)
Trust (confidently committing my prayers to God)
Some sections are different each day, and others I've repeated. It just didn't work out for me to use the guide in 2009 because my mental approach to it made it too cumbersome, but I think I can turn down the cerebral noise enough to give it another whack in 2010.

In case the resource might be of use to anyone else, I've created a version that you can download and personalize for your own use. My copy's prettier, but you probably don't have my font selection, so you'll have to settle for Times New Roman. Or switch to another font of your liking if you're pretty confident with formatting in Word (there's tricky stuff like column breaks and character spacing tweakage you'll need to look out for). I left a blank bulleted list in the Intercession section of each day for you to fill in the names of family members, friends, church members, missionaries, ministries, etc. And you'll probably want to adjust the Supplication section to your own needs, as it's is pretty personalized to mine. I just wanted to give mine as an example.

Feedback would be welcome from anyone who uses or just peruses the prayer guide. I'm sure it's not perfect, and I'm sure I'll continue to work on improving it.
Posted by Valerie (Kyriosity) at 1:35 AM • Permalink
• • 5 comments
---