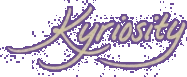 (KE'RE OS'I TE) N., A LONGING TO LOOK
INTO THE THINGS OF THE LORD [C.1996 < GK.
KYRIOS LORD + -ITY; IMIT. CURIOSITY]
Bio: Verily Valerie

Valerie is a 42-year-old, single, Reformed Christian lady who lives in Baltimore. She doesn't remember a time before she knew and loved Jesus, but she does remember accepting John Calvin into her heart in March of 2000. Valerie is a member of Christ Reformed Evangelical Church in Annapolis.

Though her career aspiration is to be a housewife, Valerie has not yet found anyone suitable who wishes to hire her for employment in that field (or, more properly, anyone suitable has not found her), so in the meantime she earns her daily bread working in communications -- editing, writing, print design and website management.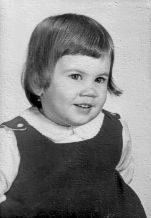 E-Mail
valerie [at] kyriosity [dot] com

AIM/YM
valkyriosity

My TTLB Ecosystem Details
Visit The Old Kyriosity Shop

Saturday, July 11, 2009 AD
Here's an Interesting Linguistic Factoid

"In Macedo-Romanian, they do not have the word 'to love.' They use instead 'to will.'" How differently might our culture think about love if it meant for us 'to will' rather than so much 'to feel'?
Posted by Valerie (Kyriosity) at 10:20 AM • Permalink
• • 5 comments
Friday, July 10, 2009 AD
Happy 500th Birthday, John Calvin!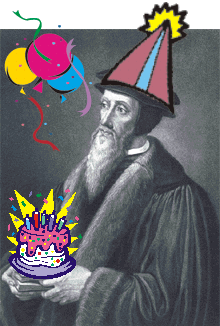 Posted by Valerie (Kyriosity) at 11:47 AM • Permalink
• • 0 comments
Tuesday, July 7, 2009 AD
The Annes

My middle name is after two of my mother's friends. I've long wanted a double frame with their pictures, and mom has gotten me one step closer to that by sending me a photo of one of the Annes along with a little card that tells both of their stories:
Annie Winham

(January 31, 1893 - May 10, 1967) was a quiet, sweet woman who suffered from depression. (Her husband, Charlie, was an alcoholic.) We became close when they had a "camp" near out house when he was helping Dad with logging. After that I often spent time at their home, which is now the Alstead P.E. on High Street. D.J. [my oldest brother] remembers playing three. During college I often stayed overnight there. I always went to visit whenever I went to N.H. after moving to Md. Annie died while I was pregnant with you.



Anne Purcell

[I'll have to ask for the dates] was my supervisor for about my first five years with the Recreation Department in Baltimore, starting in 1951. She was always very professional and helpful. At that time her mother lived with her. I visited at her apartment and she at mine. After five years I was moved from her district and had Fadre for a spervisor and then on to teaching, but we always remained friends and she took much interest in my children. Anne was present with you and Gloria with David when you both were dedicated at University Baptist Church.
The funny thing is that Fadre, whose middle name was Valera, always believed I was named after

her

. My mother has often told me very firmly that I was

not

. Fadre, I am told, was the sort of hostess who would practically have the plate out from under your food before you could finish eating. Couldn't waste a second in cleaning up. Nope...I'm not named after her and I certainly don't take after her!

I knew Anne Purcell as Aunt Anne. Though I was a preteen when she died of cancer, and I have a very skimpy memory of my childhood, I do remember her. I have a little figurine -- a squirrel in a mailbox -- that we bought for her at the hospital gift shop. I guess Mom asked for it back as a keepsake when Aunt Anne died. Her favorite color was pink. I think I also still have a pink afghan Mom made for her. I remember one particular luncheon outing with her for my 9th or 10th birthday. We went to a department store restaurant -- Hecht's or Hutzler's, I think -- and I remember it being oh so very fancy and delicious, though I haven't the slightest idea what I ate.

Aunt Anne has no surviving relatives that we're aware of. Her one brother married and had two children, but they both died young -- in their teens or twenties, if I recall correctly. His wife's maiden name was Burdick -- a family that was also involved in the Baltimore City recreation department. I live up the street from Burdick Park. When the park was renovated in the late '70s or early '80s, Mom was upset that the city didn't contact the Burdick family for the reopening ceremony. That's the trouble with memorials...no one bothers to remember who they're for.

I'm like Anne Purcell in that I've never married. I'm like Annie Winham in the tendency toward depression. And I'm different from them both in lots of ways. I'm grateful to them both for loving the shy, awkward girl who was to become my mother. God's penchant for using broken people to serve broken people is just one way He draws straight with crooked lines. It gives me hope that He could use me, the crookedest line of all, to draw something as lovely as these ladies' lives.
Posted by Valerie (Kyriosity) at 1:13 AM • Permalink
• • 1 comments
Sunday, July 5, 2009 AD
Son of Fits of Rage

Jim Wilson's book How to Be Free from Bitterness is one of the best things ever to appear in print. I hope that overall opinion mitigates my uppitiness in finding some fault with it: in that book he wrote a little chapter called "Fits of Rage," which was not very helpful to me. It was great for diagnosing, but not particularly useful for curing. It's not that the chapter wasn't all good and correct in and of itself, but I couldn't figure out how to apply it. I just couldn't latch onto the how-tos of fighting this sin. I needed more detail and direction.

So...I here present my attempt at a sequel: "Son of Fits of Rage." I'm going to try to fill in some practical approaches to dealing with habitual rage. A few caveats, though, before I start:
I'm still in the process of learning to apply these things. I haven't gotten sinful anger 100 percent locked down -- committed a humdinger of an explosion yesterday afternoon, in fact -- but I have seen more significant progress in the past few months than in the past two decades of warfare.
To quote Jim Wilson's son, "Sins are like grapes. They come in bunches." And they are like grape vines, too, entwined with one another and with everything else they can get their greedy little tendrils on. So you will likely find yourself confronting putrid produce and vicious vines on every side when you attempt to rid yourself of this fleshly flora. I'm not entirely sure, but that probably is a good sign that it's working.
Your mileage may vary. I don't know if what worked for me will work for you. But I know that it is working for me, and that has been a very, very, very amazing grace from God, and I find myself pressed to share these thoughts a) to boast in Him, b) to perhaps be of use to others who struggle with this sin, and c) to keep reminding myself.
Consider that your legal fine print. Now on to the substance. The list is ordered, but it's not exactly an orderly process I'm going to describe. The list is not grammatically parallel, because I'm mixing principles and experiences and imperatives. So it's a bit messy, but battlefields rarely look like the pictures in home decorating magazines:
Hate your sin. Grieve over it. Despise it. Cry out to God for relief from it.
Yes, there's such a thing as righteous anger, but you've got no business trying to express it if you're plagued by unrighteous anger.

Understand that every sin is based in unbelief -- either disbelief of what God has said to be true, or belief of what God has said to be false.
Find out what kind of unbelief your anger is based in. My anger is based in a disbelief of God's promise to protect and guard me (ergo I felt I had to defend myself and fight my own battles) and in a false belief that circumstances should occur and people should behave according to my will and convenience. Explore your own motives in search of these and other forms of unbelief.
Be brutally honest with yourself re what your unbelief is. Mine is

slander

(i.e., calling God a liar) and

rebellion

(i.e., trying to usurp God's place as Lord of the universe).

I was able to get to the point where my most violent expressions of anger were reserved for circumstances (particularly those involving technology and gravity) and self (particularly when I couldn't control my anger...yeah, I tried to fight fire with fire...no, it wasn't the least bit effective). I suppose that was a step better than ripping other people's heads off, but it was still a flagrant display of my unbelief.
Redefine rage. Jesus said that if we look at our brother with sinful anger, we've murdered him in our hearts. I'll stretch that principle a little farther and say don't let yourself put sinful anger on a sliding scale. Recognize every annoyance, irritation, frustration, peeve, vexation, etc. as rooted in the same unbelief that fuels your rage. The little, petty forms of anger may seem less egregious, but they're like baby dragons -- never, ever safe at any age or size.
Start repenting of every instance of every sort of anger in the same way -- confessing the unbelief and throwing yourself on your face before the throne of the Almighty in recognition of the high treason you've committed and the damnation you deserve.
Recognize that the only escape from that damnation is His mercy. Read that quote from Lewis that I posted a few days ago: You cannot change your temperament. You cannot make yourself stop being the vile, blasphemous, angry person you are. You are utterly dependent on His grace to make that change happen.
Grace is real. The gospel is true.

Believe it, believe it, believe it.

Give thanks for it, give thanks for it, give thanks for it.

As often as you confess the sinfulness of your sin (see #8), confess the graciousness of His grace.

The whole process might look/sound something like this example (though it might not be so coherent and explicit): "Father, I am so sorry for getting irritated at the computer for running slowly. I confess that I have been expecting my circumstances to conform to my will and convenience. I confess that this is rebellion against You as the sovereign Lord of the universe. I confess that I have not recognized Your good and kind providence in ordaining this circumstance; I have not submitted to it and I have not been grateful for it. Father, please forgive me. Please do not treat me as my sin deserves. Please grant me mercy for the sake of Your perfect Son, my Lord Jesus, Whose blood has paid the penalty for this and every sin of mine. Thank You, Father, for seeing me in Him...for accepting me in the Beloved. Thank You for removing my sin as far as the east is from the west. Thank You for Your faithful promise to sanctify me completely. Truly Your lovingkindness endures forever! I love You, Father, and I gratefully rest in Your love for me. Amen." Lather, rinse, repeat as necessary -- probably about a thousand times a day.
Notice that I repeatedly addressed God as "Father." That one word sums up the whole thing: It admits the rebellion, and it trusts in the remission. It humbles me before Him, and it makes me secure in Him. It helps me to seek refuge from Him in Him, which is my only hope.

For a really good explanation of father hunger, which likely plagues you if you struggle with rage, listen to the recordings from this conference. Just be forewarned that, like Mr. Wilson's chapter on rage, it's heavy on diagnosis and light on cure. I wept through six of the seven lectures as the speakers vividly painted the causes and effects of father hunger. But the lectures are addressed to pastors and elders, and there wasn't much I could apply for myself. So I gave the CDs to my pastor, because I think I'd have despaired if I'd let myself listen to them again. Not that I'm any kind of expert on helpful tools for shepherds, but I've never come across one that I thought would be as helpful to church leaders as this one...at least when it comes to the difficult job of ministering to a hard case like me. ;-)
Well, I think I've been writing for the better part of three hours, and I think I've managed to download most of my thoughts on the subject. Perhaps I'll come back at some time and add more or organize better, but for now this is what it is. A gold star to anyone who's managed to read all 1,300+ words of it!
Posted by Valerie (Kyriosity) at 5:41 PM • Permalink
• • 4 comments
Thursday, July 2, 2009 AD
My Cousin Susan Died a Few Days Ago

Second cousin once removed, actually (my mother's first cousin's granddaughter...got that?). She was only 42 -- not quite a year older than I. I only met her twice, I think, but once was during the summer I turned 12, and her family vacationed in New England at the same time my family was in NH, and we spend the better part of a week or two together as I traveled with them to visit their other relatives in the region. I remember the three Barlow girls and I counting all the pigs in their (grandmother's? great aunt's?) collection -- including every porcine picture in every story book. I suspect this was at my instigation; it's the sort of thing I'd want to do even now.

That time was very formative for me. I had never met a family who actually prayed together, and I'd never heard anyone pray, "Dear Jesus..." While I think it's generally most theologically correct to pray to the Father in Jesus' name, it deeply affected me to encounter people for whom the Lord was clearly a real Person with whom they had a real personal connection.

There were a couple other life-changing events that same summer. I went to music camp where we sang sappy songs all week, but again, I was struck by the personal connectedness to Christ I saw in the people around me that week. I walked the aisle on the last night (there were altar calls every night) and told the counselor, "I want to know Jesus better."

Although I've no doubt I was saved long before then, that summer brought a conversion of sorts -- a significant lurch forward in my walk with Christ. It made me brave enough to say no to someone who had been hurting me, even though that meant losing the closest relationship I had. Jesus became enough; His grace became sufficient.

It still is. And I still want to know Him better...like I bet Susie does now!
Posted by Valerie (Kyriosity) at 10:29 PM • Permalink
• • 1 comments
Wednesday, July 1, 2009 AD
Paedofaith

"...[W]hat a playground that old church was! When we shouted, the echo would ring from transept to transept and our laughter never, never seemed to be sacrilegious. Unlike some of the stern adults who sometimes frowned on our frolic, I had always thought that the laughter of little children in an empty cathedral was the most beautiful of all hymns of praise. And so we grew up, knowing only a God who enjoyed our presence as we skipped, ran, and played through this building which was built for His Glory."

-- Corrie ten Boom,

Tramp for the Lord
Posted by Valerie (Kyriosity) at 9:58 AM • Permalink
• • 0 comments
How NOT to Prepare for Worship

So I'm driving down the highway this past Sunday morning, tuned in to a station that plays old editions of Casey Kasem's American Top 40. They'll pick the show from the same week in some previous year. This week it was 1974. Perhaps they chose it because there was a Jackson 5 tune in the top 10. Perhaps because it was 25 years ago...a nice anniversarial number. But whatever the reason, the show was timed with my drive so that just as I turned onto the road where my church meets Casey announced the #4 hit of the week -- a novelty tune that had been remarkably popular. And thus, ladies and gentlemen, the last song I heard before heading into worship was that edifying classic "The Streak."

P.S. Actually, a merry heart doeth good like a kick in the pants, and I can always use a boost of cheerfulness to get my spirit going on Sunday mornings. I chalked it up to Providence and gave thanks for the divine joke. If your god isn't that funny, you have my condolences!
Posted by Valerie (Kyriosity) at 12:11 AM • Permalink
• • 2 comments
---