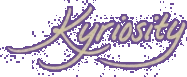 (KE'RE OS'I TE) N., A LONGING TO LOOK
INTO THE THINGS OF THE LORD [C.1996 < GK.
KYRIOS LORD + -ITY; IMIT. CURIOSITY]
Bio: Verily Valerie

Valerie is a 42-year-old, single, Reformed Christian lady who lives in Baltimore. She doesn't remember a time before she knew and loved Jesus, but she does remember accepting John Calvin into her heart in March of 2000. Valerie is a member of Christ Reformed Evangelical Church in Annapolis.

Though her career aspiration is to be a housewife, Valerie has not yet found anyone suitable who wishes to hire her for employment in that field (or, more properly, anyone suitable has not found her), so in the meantime she earns her daily bread working in communications -- editing, writing, print design and website management.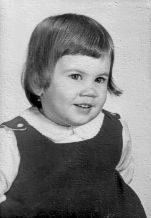 E-Mail
valerie [at] kyriosity [dot] com

AIM/YM
valkyriosity

My TTLB Ecosystem Details
Visit The Old Kyriosity Shop

Monday, December 22, 2008 AD
Looking for General Prayers of Thanksgiving

Since my daily Bible reading resolution this year has met with significant success, I plan to add a daily prayer resolution in '09. I'm putting together something that I think will work for me, based on the acronym ARTIST. It's my expansion of the ACTS (Adoration, Confession, Thanksgiving, Supplication) acronym. ARTIST stands for Adoration, Repentance, Thanksgiving, Intercession (for others' needs), Supplication (for my needs), and Trust (committing it all in faith to God). I'm collecting ready-made prayers for the project -- seven prayers in each category. I've pretty much harvested what I can from the Book of Common Prayer, and have also selected some Scripture passages and found a few things from other sources. But I still have a few gaps. Most particularly, I'm short on general prayers of thanksgiving. If anyone can think of any, and point me to the source or send me the prayer, it'd be much appreciated.
Posted by Valerie (Kyriosity) at 8:07 PM • Permalink
• • 9 comments
Tuesday, December 16, 2008 AD
Yep, Yep, Yep, Yep, Yep, Right on Down the Line

It is one of the greatest gifts of my life to be in a church that allows me to read this and have nary a qualm about how our three measure up.
Posted by Valerie (Kyriosity) at 7:10 PM • Permalink
• • 0 comments
Roommate Conversations

She: May I use your newly cleaned tablecloth to pack up my fudge?
Me: Yes, but there will be a fudge tax.
She: What? Oh! Yeah...I think I'll be paying myself that tax, too.
Me: I think that's a tax even Ron Paul would approve of!

Political compatibility is a highly desirable roommate trait.
Posted by Valerie (Kyriosity) at 11:00 AM • Permalink
• • 1 comments
Monday, December 15, 2008 AD
A New Sniglet



Deskavation

n., the act of decluttering horizontal office surfaces
Posted by Valerie (Kyriosity) at 10:08 PM • Permalink
• • 0 comments
Sunday, December 14, 2008 AD
The Imprecatory Waltz

I've written a new metrical verse for Psalm 108:
Here I am dancing with Edom, I'm waltzing...
Watch me twirl now with Philistia.
Oh, isn't it so swell
How I can curse rebel nations like Moab?
In three-quarter time I damn them,
Waltz them straight into hell!
Seriously, "Haydn" is a lovely tune, and I'm sure the editors of

The Book of Psalms for Singing

were much holier than I will ever be, but what were they thinking pairing a waltz tune with an Psalm of judgment?
Posted by Valerie (Kyriosity) at 5:39 PM • Permalink
• • 5 comments
Friday, December 12, 2008 AD
A Blast From the Past

Here's an ancient post that came to mind today. I think it's one of the better thoughts I've had, and since sensible thoughts are so rare for me, I have to recycle them. ;-)
We Need People Physically Present in Our Lives.
The Church is not the spirit of Christ; the Church is the body of Christ. The Church is a physical manifestation of Christ. Therefore the members of the Church need to be physically present to one another. Trying to live by faith that Some Intangible Entity out there (the Church) loves me isn't enough. It isn't right. It isn't what the Church is called to be. The physical presence of the Church is supposed to be the tangible reminder that Some Intangible Person out there (God) loves me.

There's a story of a little boy who's afraid of a thunderstorm in the middle of the night. He cries for his daddy, who comes to him and says, "Don't worry, son. Jesus is here with you." The boy answers, "Yes, I know, Daddy, but I need somebody with skin on." The boy is absolutely right! He expressed a perfectly legitimate need. We need somebody with skin on. Paul did not exhort the Romans and the Corinthians and the Thessalonians to greet one another with a holy phone call or a holy e-mail, but with a holy kiss -- a physical act. Whether or not we're supposed to obey that literally or in some more culturally acceptable way, one thing is clear about a kiss -- it involves getting in each other's face.

The church should be a community. We should meet together daily. No, not necessarily in formal assembly, but no member of the body should have to go a day without contact with other members of the body. We are to encourage one another daily (Hebrews 3:13). We have forgotten that we have daily needs. We're supposed to pray, "Give us this day our daily bread" (another physical need), but we don't need more than a weekly trip to the supermarket. We think we can get away with that in regard to our fellowship needs, too. The Israelites in the desert were to gather only enough manna for each day (Exodus 16:19). They were to be daily reminded of their need and their dependence. We have forgotten our daily need for community.

(Originally posted October 18, 2002.)
Last night I not only got to hang out with a family from church, but actually have a long conversation with a friend and get hugs from her and her youngest two girls. A feast for the soul! It's been a blessing for me to see a light on in my house most nights when I've come home from work the past few months. My housemate and I don't have a lot of gut-spilling tête-à-têtes, but just the day-to-day exchange of commonplaces and the mere sight of a sister in Christ nourishes my spirit. Over the past couple months I've shifted my work schedule in part so we actually have a shot at spending some of our waking hours under the same roof. And who knows...perhaps someday I'll even get my act together enough to go seek other employment someplace where I can work alongside other believers 40 hours a week!
Posted by Valerie (Kyriosity) at 12:03 PM • Permalink
• • 0 comments
Monday, December 8, 2008 AD
Is RefTagger Working?

RefTagger -- super-simple automatic Scripture tool tip popup code.

Genesis 1:1
Revelation 22:21

It is! Cool beans. (But only if you're reading this on my site...not FB.)
Posted by Valerie (Kyriosity) at 10:33 AM • Permalink
• • 4 comments
Sunday, December 7, 2008 AD
For Everything Else, There's Mastercard

One Matchbox car: one buck
One racecar-shaped tin of chocolates: a few bucks
"This is the best present ever!": priceless

Granted, the boy was whining at me a couple hours later because we weren't going to James's house after church (we weren't invited, but somehow it was still my fault), but at least the first attempt at Sabbath treats went over well. He was actually excited about his booster seat, too. I was kinda expecting an argument there, so was pleased there was no problem. (Thanks, Sheila!)

I got more 6-year-old boy practice while on vacation. My mom takes care of a young first cousin twice removed (great-great nephew to her) who stretches my patience to the utmost. I think the reason the Lord is putting so many of the creatures in my path is to show my just how much I am like one -- whining, undisciplined, ungrateful, disobedient.... Um, thanks, Lord. And point taken.
Posted by Valerie (Kyriosity) at 5:08 PM • Permalink
• • 1 comments
GeePeeEsses

Seeing as how I am perpetually lost (geographically, that is, not spiritually) I'm thinking about indulging in a GPS for Christmas. Anybody know anything about them? What should I look for and avoid? Are the cheapest ones any good? What should I expect to spend to get a good one?
Posted by Valerie (Kyriosity) at 5:04 PM • Permalink
• • 4 comments
Saturday, December 6, 2008 AD
Wanna Hear Something Funny?

On square #16, I made a mistake. And I kept right on making it in each subsequent square. Fortunately, it's in the last round of the pattern (the pattern goes from the center outward in rounds rather than in rows), so I can go back and change the 15 correct squares rather than the 117 incorrect ones. And no one will be the wiser. Well...except all of you reading this! ;-)
Posted by Valerie (Kyriosity) at 9:50 AM • Permalink
• • 4 comments
Wednesday, December 3, 2008 AD
Seasonal Devotional Guide

A few days late, but here's an Advent/Christmas/Epiphany devotional guide penned by the pastors of the CREC. For best results, set Page Scaling to None in the Adobe Acrobat print dialogue box, and print on both sides of the page.
Posted by Valerie (Kyriosity) at 10:19 AM • Permalink
• • 3 comments
---