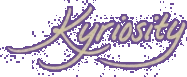 (KE'RE OS'I TE) N., A LONGING TO LOOK
INTO THE THINGS OF THE LORD [C.1996 < GK.
KYRIOS LORD + -ITY; IMIT. CURIOSITY]
Bio: Verily Valerie

Valerie is a 42-year-old, single, Reformed Christian lady who lives in Baltimore. She doesn't remember a time before she knew and loved Jesus, but she does remember accepting John Calvin into her heart in March of 2000. Valerie is a member of Christ Reformed Evangelical Church in Annapolis.

Though her career aspiration is to be a housewife, Valerie has not yet found anyone suitable who wishes to hire her for employment in that field (or, more properly, anyone suitable has not found her), so in the meantime she earns her daily bread working in communications -- editing, writing, print design and website management.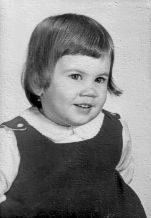 E-Mail
valerie [at] kyriosity [dot] com

AIM/YM
valkyriosity

My TTLB Ecosystem Details
Visit The Old Kyriosity Shop

Wednesday, May 28, 2008 AD
August 12, 1933-May 28, 2008

Just got the call. She's gone.
Death be not proud, though some have called thee
Mighty and dreadfull, for, thou art not so,
For, those, whom thou think'st, thou dost overthrow,
Die not, poore death, nor yet canst thou kill me.
From rest and sleepe, which but thy pictures bee,
Much pleasure, then from thee, much more must flow,
And soonest our best men with thee doe goe,
Rest of their bones, and soules deliverie.
Thou art slave to Fate, Chance, kings, and desperate men,
And dost with poyson, warre, and sicknesse dwell,
And poppie, or charmes can make us sleepe as well,
And better then thy stroake; why swell'st thou then;
One short sleepe past, wee wake eternally,
And death shall be no more; death, thou shalt die
Posted by Valerie (Kyriosity) at 10:24 PM • Permalink
• • 4 comments
A Marvelous Neologism from Richard
"Prostitots"
Posted by Valerie (Kyriosity) at 8:03 AM • Permalink
• • 0 comments
Tuesday, May 27, 2008 AD
Imagine That

The daughter of a motherhood-hating feminist kind of resents being resented:
I asked her to apologise and acknowledge how much she'd hurt me over the years with neglect, withholding affection and resenting me for things I had no control over -- the fact that I am mixed-race, that I have a wealthy, white, professional father and that I was born at all.

But she wouldn't back down. Instead, she wrote me a letter saying that our relationship had been inconsequential for years and that she was no longer interested in being my mother. She even signed the letter with her first name, rather than 'Mom'.
It's sad that the writer is consumed by bitterness and hasn't found the real antidote for feminism -- submission to Christ -- but surely we can hear this secular rejection of feminism as a nail being hammered into its coffin. And that is a lovely sound, indeed. (HT Barlow Farms)
Posted by Valerie (Kyriosity) at 7:02 AM • Permalink
• • 0 comments
Monday, May 26, 2008 AD
Damned Death
"The last enemy that will be destroyed is death." --1 Corinthians 15:26
On March 22 Mom called to tell me that her best friend, my neighbor Miss Gloria, the "other mother" of my childhood, had leukemia. They gave her 2-18 months. Mom came down from New Hampshire for her usual spring visit from April 24. She spent most of that time with Miss Gloria, and we had lunch here one afternoon when other old friends came down from Pennsylvania for the day. She left May 6, saying she'd be back when it was close to the end -- that Miss Gloria would call to let her know. She returned just nine days later. She spent the first night or two here at my house, and has been at Miss Gloria's almost 24/7 since then. She's had a few breaks when someone else comes for a while.

I was down visiting on Thursday evening, and then with a very busy weekend didn't make it back 'til Sunday evening. Miss Gloria was so much altered. A funny: I was reading a novel to her and got to a scene that was rather more explicit than I could read out loud. I did some on-the-fly editing for a few sentences, and then I just had to stop. Mercifully, Miss Gloria had fallen asleep. She'd have skipped those paragraphs, too...and did! She woke up a while later, and I told her why I'd had to stop reading, but that afterward Dylan opened Jane's locket and found Chloe's picture, which is all anybody needed to know, anyway.

Today I cried to and from and between graduation parties, managing to hold it together during, so I could rejoice with those who rejoice. Then I went down and sat with Mom for a while 'til she shooed me out. My brother David made it over today, too. Carless, he takes several buses and several hours to get here from across town. My other brother, D.J., came a couple weeks ago. I'm glad we all got some last moments. Mom says it will be tonight or tomorrow. She knows these things because she cared for Nana and Grampa at the end. Mom's like that -- there to do whatever's needed, and competent at doing it. A pioneer, for sure.

I've never lost anyone this close to me. I don't grieve as those who have no hope, but I do grieve. I've cried off and on for weeks. I've cried through writing this, and will go to bed and no doubt cry some more. I'll cry again and again in the days to come. It isn't supposed to be this way. Death is not supposed to happen. But it won't always happen. Death has been damned. It has been mortally wounded and is in its final throes. It has been sentenced and will receive no commutation of its execution. Miss Gloria may die tomorrow, but she will live tomorrow as she has never lived before. Death will grasp her for a moment, but Resurrection will embrace her for eternity.
Posted by Valerie (Kyriosity) at 11:45 PM • Permalink
• • 1 comments
Wednesday, May 21, 2008 AD
Challies' May Giveaway
Posted by Valerie (Kyriosity) at 8:32 AM • Permalink
• • 0 comments
Monday, May 19, 2008 AD
Can That Count Toward My Tithe?

I figure I'm now paying forty bucks a month in gas to get to and from church. Tack on trips to church-related events, and we're probably talking closer to eighty. Pretty soon it might actually be more economical to go six figures into debt buying a house in Anne Arundel County.
Posted by Valerie (Kyriosity) at 10:15 PM • Permalink
• • 11 comments
Saturday, May 17, 2008 AD
A Metaphor for Morbid Introspection

I've spent a goodly chunk of time today cleaning out my freezer and fridge. Morbid introspection would contemplate how very filthy it was -- particularly that mystery sludge that was hiding under the vegetable crisper drawer. Faithfulness would contemplate how very clean it now is -- gleaming white and apple-pie orderly.
Posted by Valerie (Kyriosity) at 5:09 PM • Permalink
• • 1 comments
Monday, May 12, 2008 AD
Twitterpated!
Posted by Valerie (Kyriosity) at 9:27 PM • Permalink
• • 8 comments
Saturday, May 3, 2008 AD
Birthday Cake

Alaina's 12-year-old brother saw this and exclaimed, "Miss Valerie, you're a beast!" I think that was supposed to be a compliment, but where do they get these expressions? :-P

Red fondant and black buttercream were left over from the CREC 10th anniversary cake. Petals are made with Lindy Smith elegant heart cutters. Yellow lemon buttercream was to match the lemon-flavor cake. Filled with buttercream and raspberry preserves.

I'm little by little getting better at doing the buttercream, but I'm mystified as to how to get the corners tidy. Suggestions are welcome!
Posted by Valerie (Kyriosity) at 2:04 PM • Permalink
• • 10 comments
Friday, May 2, 2008 AD
Slow Cooker White Chili

This is one of my faves -- simple and flavorful. If you're in my church and need a meal, you've either gotten this already or will at some point!

I got it from Anne Byrn's The Dinner Doctor, and my mom just found the identical recipe in another CrockPot cookbook.

3 cans (15 ounces each) Great Northern beans, drained
2 cups shredded cooked chicken
1 cup chopped red bell pepper (or yellow or green)
1 cup finely chopped onion
4 cloves garlic, sliced
1 can (4 ounces) chopped green chiles with their liquid
1 tablespoon ground cumin
1 teaspoon dried oregano
1/2 teaspoon salt, or 1 chicken-flavored bullion cube
2 cans (14.5 ounces each) low-sodium chicken broth
2 cups tortilla chips
lime wedges, fresh cilantro sprigs, and reduced-fat sour cream, for serving

Place the beans, chicken, bell pepper, onion, garlic, chiles, cumin, oregano, salt, and broth in a 4.5- to 6-quart slow cooker. Stir to combine.

Cover the cooker and cook the chili until bubbling, the ingredients have cooked down, and the liquid has thickened, 4 to 5 hours on high heat or 8 to 10 hours on low heat.

If desired, just before serving crush the tortilla chips into roughly 1/2-inch pieces, add them to the chili, and stir until they soften (or garnish the chili with them). Spoon the chili into bowls and serve it with bowls of lime wedges, cilantro, and sour cream on the side for toppings.

Serves 8
Posted by Valerie (Kyriosity) at 9:02 AM • Permalink
• • 2 comments
---