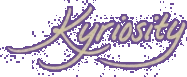 (KE'RE OS'I TE) N., A LONGING TO LOOK
INTO THE THINGS OF THE LORD [C.1996 < GK.
KYRIOS LORD + -ITY; IMIT. CURIOSITY]
Bio: Verily Valerie

Valerie is a 42-year-old, single, Reformed Christian lady who lives in Baltimore. She doesn't remember a time before she knew and loved Jesus, but she does remember accepting John Calvin into her heart in March of 2000. Valerie is a member of Christ Reformed Evangelical Church in Annapolis.

Though her career aspiration is to be a housewife, Valerie has not yet found anyone suitable who wishes to hire her for employment in that field (or, more properly, anyone suitable has not found her), so in the meantime she earns her daily bread working in communications -- editing, writing, print design and website management.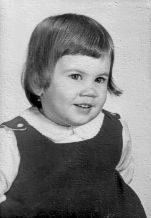 E-Mail
valerie [at] kyriosity [dot] com

AIM/YM
valkyriosity

My TTLB Ecosystem Details
Visit The Old Kyriosity Shop

Saturday, December 29, 2007 AD
Moved to Tears over This One
Posted by Valerie (Kyriosity) at 12:15 PM • Permalink
• • 4 comments
Friday, December 28, 2007 AD
My Interior Decorating Phobia

When it comes to interior decorating, I am paralyzed by fear of spending a ton of money on something I'm not sure I'm going to like. I need curtains. Making the wrong choice will mean having to look at huge expanses of ugliness. I want something not too pricey, because I don't expect to be in this house forever, but decent, in case I do end up here forever. I want

color

(my walls are all sensory deprivation-inducing eggshell), but color is risky. Of all the ones I've browsed, I rather like these, but the $30/panel price tag (x 14 panels) is definitely more than I wanted to spend. Here's another stripe, but I don't like it as well. Most of the less expensive options are solid colors, which I'm afraid will just be too flat and boring (though this one at least has a little texture). Anyway, all this is to say, "Help!" What should I think about that I'm not thinking about? Where should I shop that I haven't shopped? Could I maybe skimp on the width (e.g., make one 50" panel work for a 36" window rather than buying two panels), or would I be really sorry if I did that? In an ideal world, I would make curtains, but since I live in reality (well...at least my

house

exists in reality) I've got to give up that fantasy and buy my poor nekkid windows some drapes!
Posted by Valerie (Kyriosity) at 1:29 PM • Permalink
• • 6 comments
Friday, December 21, 2007 AD
Here's a Cool Story

I love it when people come across my blog via a search for my pastor, Glen Knecht. I sometimes follow those searches back and see what else the World Wide Web has to say about him. Here's a gem I came across tonight:
Glen Knecht, the former minister of First Presbyterian Church in Columbia, South Carolina, was approached to contribute a sermon to a book which was a collection of sermons, and it was given the title..."If I Only Had One Sermon to Preach." And the editor of this volume, a famous preacher, said, "Dr. Knecht, would you give the sermon that you would preach if it were going to be your last sermon?" And if you look at this collection by the way, you will see that these preachers clearly pulled out the best sermons that they had ever preached, including him. Glen Knecht, however, pulled out his next Sunday's sermon. He discussed this and prayed over it and talked with his staff and he said, "Well, I guess if that's the sermon that I'm going to preach the next Lord's Day, it better be the last sermon that I'm willing to preach if I'm going to die." It was his sermon on tithing that year. You know, all these glorious sermons on the finished work of Christ and the second coming and the virgin birth, and here's his sermon on stewardship. But what consistency: "I guess if that's the sermon I'm going to preach next Sunday, that better be the sermon I'm prepared to preach if it's the last sermon of my life."

(Source)
"But what consistency," indeed. That is an apt description of Glen if there ever was one. Not rigidity -- he's not fossilized in his understanding or practice -- but steadfast simplicity in his dedication to Christ and His Word. We are blessed!
Posted by Valerie (Kyriosity) at 11:08 PM • Permalink
• • 4 comments
Thursday, December 20, 2007 AD
More Etsy

I bought a pair of earrings for each of the gals in my department at work. I looked at about a zillion listings to find ones I thought would suit each of them. Here's what I came up with: 1 | 2 | 3 | 4 | 5

Other cool shops you should check out: Cindy's | Kimberly's

And that's all I can say for now, 'cuz you never never know who might be reading....
Posted by Valerie (Kyriosity) at 9:32 PM • Permalink
• • 0 comments
Woe Is Me! I Am Undone!

For I am a woman who likes pretty things, and I dwell in the midst of the people of Etsy! these earrings are reserved while the designer creates a matching pendant and bracelet for me. Are they not scrumptious? I fear making a pauper of myself with this woman's work. There is much else of hers I'd like to get my earlobes on!
Posted by Valerie (Kyriosity) at 10:08 AM • Permalink
• • 3 comments
Beautiful Parenting Post from Mrs. Wilson

"Parents are where the action is. And if you delight in each of your children, you will free them to delight in one another. This is just the way it is." Read the whole thing here.
Posted by Valerie (Kyriosity) at 7:00 AM • Permalink
• • 0 comments
Tuesday, December 18, 2007 AD
I Think I Know These People

And I rather like them! (Click here for video.)
Posted by Valerie (Kyriosity) at 2:58 PM • Permalink
• • 0 comments
Monday, December 17, 2007 AD
How to Argue with God
"He has filled His Word with things that He wants us to remind Him of. He loves it when His people argue with Him in faith. He detests it when we murmur in unbelief, but He delights in it when we discover a promise in His Word, and we turn to Him and say, 'Hey! Why aren't You doing this? We know the fault must be ours, but still, why do You talk this way in the Bible if You don't want to do it?'"
Posted by Valerie (Kyriosity) at 5:18 PM • Permalink
• • 1 comments
Someone Else Shares My Confused Musical Tastes
Posted by Valerie (Kyriosity) at 10:41 AM • Permalink
• • 7 comments
Friday, December 14, 2007 AD
My Favorite Song

Baa, baa, twinkle, E F G,
How I wonder three bags full.
Q R S, one for my dame,
Like a diamond Y and Z
Twinkle, baa, baa, little star.
Next time, won't you sing with me?
Posted by Valerie (Kyriosity) at 1:43 PM • Permalink
• • 3 comments
Tuesday, December 11, 2007 AD
Have You Heard About the Betty Hester Correspondence?

Flannery O'Connor kept up a written correspondence with a woman named Betty Hester for a number of years. At one point Betty wrote, "I hope I'm not being a nuisance writing so often, but I love your work so much and have really enjoyed discussing it with you. I hope you don't mind." Flannery responded, "A good fan is hard to mind."

(This post is for entertainment purposes only, and is not to be confused with reality.)
Posted by Valerie (Kyriosity) at 9:39 PM • Permalink
• • 3 comments
I'm Trying to Decide if I'd Actually Have the Courage to Put This On My Car
Posted by Valerie (Kyriosity) at 8:33 PM • Permalink
• • 11 comments
Sunday, December 9, 2007 AD
Hyocrisy in the Body of Christ

I went to bed last night with the most beautiful loaf of communion bread I'd ever made sitting in my kitchen. But when I woke up this morning it was sunken in. Oh how its looks deceived me! But it was hollow and half-baked. No one will be deceived in a couple hours, though, when they see it on the table. There wasn't time to start again, so it will be with very flawed bread that Christ feeds us today. And I will be comforted to know that He can do so.

UPDATE, 6 p.m.
Well, it mustn't have been too bad. A certain blonde 6-year-old came in while I was cleaning up and asked, "Miss Valerie*, can you bring the rest of the communion bread out to the refreshment table?" The kids are like sparrows (or, as one friend calls them, buzzards) with the leftover bread, evidently even when it is half-baked!

*Actually she said "Mrs. Lastname." "Mrs." because kids assume that every grownup lady should be a Mrs. (from their mouths to God's ears!) and "Lastname" because that's her daddy's rule. Ecxcept she used my real last name. But of course I never post my last name in public, so I therefore subbed in "Miss Valerie." Got it?
Posted by Valerie (Kyriosity) at 8:14 AM • Permalink
• • 3 comments
Tuesday, December 4, 2007 AD
Hey, All You Moms of Little Girls!
Lookit this!
Posted by Valerie (Kyriosity) at 6:13 PM • Permalink
• • 5 comments
BMW

Took down the two posts wherein I was BMWing about work stuff. I'll leave it to your imaginations what those letters might stand for....
Posted by Valerie (Kyriosity) at 2:05 PM • Permalink
• • 9 comments
Monday, December 3, 2007 AD
Sobering

Half of my mother's high school class is now dead.
Posted by Valerie (Kyriosity) at 7:07 PM • Permalink
• • 0 comments
Sunday, December 2, 2007 AD
A Good Time Was Had by All

I'm tellin' ya...ya need to make friends with these people and get invited to this next year. The cake (I was in the presence of greatness!), brought to confectionery life by these guys from a sketch by the CCO (who happens to be one of my elders), is supposed to be on the show sometime. Hopefully someone who has two things I lack -- a television and a cable connection -- will record and share it. (But Duff doesn't get to make the intern's wedding cake, 'cuz he don't work for love. Neener, neener!)
Posted by Valerie (Kyriosity) at 1:10 AM • Permalink
• • 4 comments
---