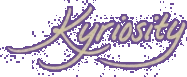 (KE'RE OS'I TE) N., A LONGING TO LOOK
INTO THE THINGS OF THE LORD [C.1996 < GK.
KYRIOS LORD + -ITY; IMIT. CURIOSITY]
Visit The Old Kyriosity Shop

Wednesday, June 06, 2007 AD



Real Men Have Gray Hair


From The Boston Globe (HT Carmon):
"I had looked around the plane for help, and all the younger guys had averted their eyes. When I asked the guy next to me if he was up to it, all he said was, 'Retired captain. USMC.' I said, 'You'll do,' " Hayden recalled. "So, basically, a couple of grandfathers took care of the situation."
And be sure to read Hayden's wife's comments in the last paragraph. Hilarious stuff!
Posted by Valerie (Kyriosity) at 6/06/2007 09:51:00 AM • • Permalink
---
Links to this post:
---
Home