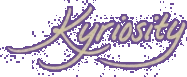 (KE'RE OS'I TE) N., A LONGING TO LOOK
INTO THE THINGS OF THE LORD [C.1996 < GK.
KYRIOS LORD + -ITY; IMIT. CURIOSITY]
Visit The Old Kyriosity Shop

Friday, June 01, 2007 AD



But Practically Speaking....


Nancy Wilson wrote today, "Sometimes we think, 'If only I had more self-control, more kindness, more graciousness…' And yet, God has already provided all these things for us in Christ. We just need to realize we have them, and then move in and take possession of these things." And I don't disagree. But practically speaking, if we have learned to realize we have these things, but we haven't learned to move in and take possession of them, then we don't have them. If I've been given a bicycle, but I haven't learned to ride it yet, then in a very real sense, I haven't "got it." Somehow knowing that self-control, kindness and graciousness are mine already isn't very helpful if I can't see them as actual fruit in my life. It just makes me feel stupid and discouraged that I haven't figured out how to make such virtues evident...especially when there are very real and painful consequences to lacking them.

I have so much more than I deserve. God has not been unkind to me, and I have no cause for complaining against Him. I'm just not quite sure what to do with the long list of grievances I have against myself. But one a.m. is not the time to be asking such questions, so I'm sending myself away until regular business hours, which ended two and a half hours ago!
Posted by Valerie (Kyriosity) at 6/01/2007 12:48:00 AM • • Permalink
---
Links to this post:
---
Home