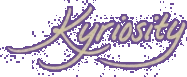 (KE'RE OS'I TE) N., A LONGING TO LOOK
INTO THE THINGS OF THE LORD [C.1996 < GK.
KYRIOS LORD + -ITY; IMIT. CURIOSITY]
Visit The Old Kyriosity Shop

Tuesday, September 06, 2005 AD



Yay! Work! Yay!


The earliest incidence I can find of my now-famous "Yay! Babies! Yay!" expression was December 1, 2003. When I say it now, I really mean it, but when I started saying it, I was still working towards feeling it. (By the way, the work of my friends at the Highlands Study Center has been a huge factor in this transformation of my thinking, for which I am very grateful.)

So now I need to do the same thing about work -- both paid work and housework. I need to keep saying it's a good thing 'til I really believe and feel that it's a good thing. Learning to love work is harder than learning to love babies. Work doesn't have dimply, toothless smiles and isn't the least bit snuggly. In fact, I'm not really sure what there is to love about it. All I know is that God commands it, and that I ought to delight in everything He commands.

How would you tackle this one if you were in my shoes?
Posted by Valerie (Kyriosity) at 9/06/2005 06:19:00 PM • • Permalink
---
Links to this post:
---
Home