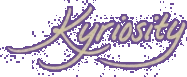 (KE'RE OS'I TE) N., A LONGING TO LOOK
INTO THE THINGS OF THE LORD [C.1996 < GK.
KYRIOS LORD + -ITY; IMIT. CURIOSITY]
Visit The Old Kyriosity Shop

Thursday, September 08, 2005 AD



Does Time-Delayed Self-Control Count?


Yesterday something transpired that caused me to draft a blistering e-mail including a threat to quit on the spot if things did not go my way. I didn't send the e-mail, and I have since calmed down greatly, and am almost cheerfully resigned to the status quo. Remember all that discussion about submission a few weeks back? It wasn't really about marriage! Adding to the difficulty of this particular situation, though, was the fact that the offending person has no authority over me, and

no authority to make the decision

. But blowing a gasket would still not be appropriate, as she is still a couple ranks above me in the agency. (Of course blowing a gasket would have been inappropriate even if she'd been my equal or a couple ranks below me, too.) One of the great things about working at home: There's time for time-delayed responses!
Posted by Valerie (Kyriosity) at 9/08/2005 05:16:00 PM • • Permalink
---
Links to this post:
---
Home