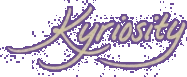 (KE'RE OS'I TE) N., A LONGING TO LOOK
INTO THE THINGS OF THE LORD [C.1996 < GK.
KYRIOS LORD + -ITY; IMIT. CURIOSITY]
Visit The Old Kyriosity Shop

Friday, August 19, 2005 AD



Something's Missing


Doug Wilson here posts a Communion invitation he used in his congregation. In it he says, "I invite every baptized believer here, who has not been lawfully excommunicated, to come to the Table." There is something missing here. The "lawfully excommunicated" speaks to the authority of the Church. You and I as individuals may not go about willy-nilly denying one another (or ourselves) the sacraments. But isn't there, or oughtn't there be, a flip side, to wit, that the baptized individual be

lawfully communicated

-- covenantally connected to Christ's body? Else baptized people get the benefits of fellowship without the responsibilities or the accountability...sort of like (dare I say it?) sex outside the bounds of matrimony.

I know a fellow who has never, in the 20+ years since his conversion and baptism, made a membership commitment to a local body. Therefore he cannot possibly be lawfully excommunicated. But despite the lack of

de jure

excommunication, surely has

de facto

excommunicated himself. Yet I know he eats and drinks as he pleases at whatever church he happens to be visiting at the time. What makes this especially egregious is that, if he were a member of a congregation that practiced biblical discipline, he likely

would

have been formally excommunicated years ago.

If this fellow walked into my church on a Sunday morning, I might have a real struggle over whether or not I would partake of the Supper that day knowing he would do so. I would probably finally decide to go to the Table, because I have no authority to make the call whether either he or I should be there, but it would be to me a bitter meal, I fear.

Now I can go back to bed. I just didn't want to go to sleep and lose that thought.
Posted by Valerie (Kyriosity) at 8/19/2005 12:10:00 AM • • Permalink
---
Links to this post:
---
Home