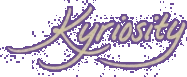 (KE'RE OS'I TE) N., A LONGING TO LOOK
INTO THE THINGS OF THE LORD [C.1996 < GK.
KYRIOS LORD + -ITY; IMIT. CURIOSITY]
Visit The Old Kyriosity Shop

Sunday, August 28, 2005 AD



A One-Word Confession of Faith


The last couple Sundays (at least I don't remember it before then, but I may have been in la-la land for the past year and a half) Eric has been having us say "Amen" to the assurance of pardon after the confession of sins. This is not an easy thing for the Queen of the Gypsy Doubters to do. But it's as if Jesus is getting right up in my face and demanding, "Hey! Do you trust Me?" and what else am I gonna say? That

amen

is packed with the Gospel -- the acknowledgment of His holiness, my uncleanness, and the efficacy of His purifying salvation. Yes, Jesus, I trust you.
Posted by Valerie (Kyriosity) at 8/28/2005 11:28:00 PM • • Permalink
---
Links to this post:
---
Home