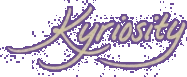 (KE'RE OS'I TE) N., A LONGING TO LOOK
INTO THE THINGS OF THE LORD [C.1996 < GK.
KYRIOS LORD + -ITY; IMIT. CURIOSITY]
Visit The Old Kyriosity Shop

Monday, August 15, 2005 AD



The Jane Austen Novel Quiz


(Link via Carmon.)

I am "The Mansfield Park type: Another under-represented and misunderstood type, these people are serious-minded and not afraid to stand up for their principles. They admire others who do the same. Possessing a bit of a protective streak, they are ever-ready to defend their unfortunately oft-abused heroine, and have inexplicably never had the urge to hit Edmund over the head with a 2 x 4 (okay, maybe that's just me...:-D). 6 other people got this result! This quiz hs been taken 87 times. 7% of people had this result." Take the quiz.

I cannot post the image that was offered with this result, because it was taken from That Hideous Travesty against which I am evidently not afraid to stand up for my principles. I'm surprised I got this result, though, my answers did not seem specific to MP. Still, "under-represented and misunderstood" works for me...quite melodramatic, don't you think?
Posted by Valerie (Kyriosity) at 8/15/2005 05:52:00 AM • • Permalink
---
Links to this post:
---
Home