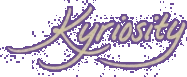 (KE'RE OS'I TE) N., A LONGING TO LOOK
INTO THE THINGS OF THE LORD [C.1996 < GK.
KYRIOS LORD + -ITY; IMIT. CURIOSITY]
Visit The Old Kyriosity Shop

Thursday, August 04, 2005 AD



Flip Side of the Last Post


Doug Wilson's ongoing "Marriage As Manifest Glory" sermon series has been excellent. The latest installment, "What Headship Is Not," is no exception. You can hear it online here -- it should be available for a couple months, and after that can still be ordered from Canon Press. This series has been blow-me-away blessingful for me as a single person, so I imagine it would be even moreso for married folks. Canon has the first three volumes available; the last sermon in volume 4 was preached two Sundays ago, so it's probably in the works; and "What Headship Is Not" is the first sermon in volume five, so there's more good stuff to come.

My new suggested slogan for our Moscow friends: "Douglas Wilson: With heretics like these, who needs orthodoxy?"
Posted by Valerie (Kyriosity) at 8/04/2005 01:28:00 PM • • Permalink
---
Links to this post:
---
Home