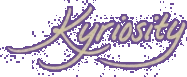 (KE'RE OS'I TE) N., A LONGING TO LOOK
INTO THE THINGS OF THE LORD [C.1996 < GK.
KYRIOS LORD + -ITY; IMIT. CURIOSITY]
Visit The Old Kyriosity Shop

Saturday, July 02, 2005 AD

Recipes
I just typed all this out to send to the ladies at church, and figured I'd be lazy...er...efficient (yeah, that's what I mean) and use it as a blog post, too. These recipes were sent to me by Craigellachie, who tore them out of the charter issue of Cook's Country -- a freebie advertisement she got in the mail...twice. So I've assumed that Cook's Country wouldn't mind a little more free advertising.

I also have these in a more nicely formatted Word doc, which I will e-mail to anyone who asks.

Southwestern Pot Roast
Serves 6, with enough leftovers to make Beef Tortilla Casserole.

Corn tortillas are used to thicken the gravy for this pot roast. Vary the heat by adjusting the amount of cayenne pepper. Serve with rice or egg noodles. In most markets, you will have to order a large 5½- to 6-pound chuck roast. Alternatively, use two 3-pound roasts (which are common in most markets). If making Beef Tortilla casserole (see recipe below), reserve 4½ cups of gravy and 4 cups of meat.
1 large boneless beef chuck roast (5½ to 6 pounds), tied
salt and pepper
4 teaspoons vegetable oil
2 medium onions, chopped
1 medium red bell pepper, chopped
4 medium jalapeño chiles, seeded and minced
8 medium garlic cloves
1 (28-ounce) can crushed tomatoes
2¾ cups low-sodium chicken broth
3 tablespoons chili powder
2 tablespoons ground cumin
1-2 teaspoons cayenne pepper
1 teaspoon dried oregano
6 (6-inch) corn tortillas
2 tablespoons chopped fresh cilantro
1. Season roast liberally with salt and pepper. Heat 2 teaspoons oil on 12-inch skillet over medium-high heat until shimmering but not smoking. Brown roast thoroughly on all sides, 8 to 10 minutes. Transfer browned roast to slow-cooker insert.
2. Reduce heat to medium. Add remaining 2 teaspoons oil to empty skillet along with onions, bell pepper, chiles and garlic. Cook, stirring occasionally, until vegetables are lightly browned, about 4 minutes. Transfer vegetables into slow-cooker insert.
3. Increase heat to high. Add tomatoes and 2 cups broth to empty skillet, scraping up any brown bits with wooden spoon. Add chili powder, cumin, cayenne, and oregano and bring to boil. Transfer to slow-cooker insert.
4. Tear tortillas into small pieces and combine in medium microwave-safe bowl with remaining ¾ cup broth. Heat on high power until softened, about 2 minutes. Puree in food processor until smooth. Transfer to slow-cooker insert.
5. Set slow cooker to high, cover, and cook until tender, 6 to 7 hours. (Alternatively, cook on low for 9 to 10 hours.) Transfer roast to carving board; loosely tent with foil to keep warm. Allow liquid in pot to settle about 5 minutes, then use wide spoon to skim fat off surface. Puree liquid and solids in batches in blender or food processor. (Alternatively, use immersion blender and process until smooth.) Stir in cilantro and season to taste with salt and pepper.
6. Remove strings from roast and cut into ½-inch-thick slices. Transfer meat to warmed serving platter. Pour about 1 cup gravy over meat. Serve, passing more gravy separately.


Beef Tortilla Casserole
Serves 6-8

This hearty Mexican casserole with beef, beans, tortillas and cheese makes a complete meal. Just add a salad.
1½ cups shredded sharp cheddar cheese
1½ cups shredded Monterey Jack cheese
4½ cups leftover gravy from Southwestern Pot Roast
2 (14½-ounce) cans pinto beans, drained and rinsed
4 cups meat from Southwestern Pot Roast, torn into 1½-inch chunks
¼ cup lime juice from 2 limes
¼ cup chopped fresh cilantro
salt and pepper
18 (6-inch) corn tortillas
1 cup sour cream
½ cup chopped scallions
1. Adjust oven racks to upper and lower positions and heat oven to 300 degrees. Spray 13 by 9-inch baking dish with cooking spray. Mix cheeses together and set aside.
2. Bring gravy to boil in large saucepan over medium heat. Stir in pinto beans and meat, and warm through. Remove pan from heat, add lime juice and cilantro, and season with salt and pepper to taste.
3. Place tortillas on two baking sheets (some overlapping is fine) and spray both sides of tortillas lightly with cooking spray. Bake until tortillas are very soft and pliable, about 5 minutes. Increase oven temperature to 450 degrees.
4. Spread one-third of beef mixture in greased baking dish. Layer 6 tortillas on top, overlapping as needed. Sprinkle with 1 cup cheese. Repeat to form second layer.
5. Cut remaining 6 tortillas into quarters. Spread remaining beef mixture in baking dish and cover with tortilla pieces. Cover with remaining 1 cup cheese.
6. Bake on bottom oven rack until cheese is golden brown and casserole is bubbling, about 15 minutes. Let rest 5 minutes. Cut casserole into individual portions and transfer to plates. Dollop a heaping teaspoon sour cream in center of each portion and sprinkle with scallions. Serve immediately.
Posted by Valerie (Kyriosity) at 7/02/2005 02:13:00 PM • • Permalink
---
Links to this post:
---
Home