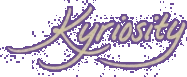 (KE'RE OS'I TE) N., A LONGING TO LOOK
INTO THE THINGS OF THE LORD [C.1996 < GK.
KYRIOS LORD + -ITY; IMIT. CURIOSITY]
Visit The Old Kyriosity Shop

Monday, July 04, 2005 AD

Movies
I'm working my way (well, "working" probably isn't the most accurate term..."playing," more like) through the DVDs I ordered in May. Here are a few random thoughts so far:So there you have it. Fewer thoughts than feelings, I suppose, but I always freely admit that the writing of film reviews is not among my talents.

Just a few six-degrees-of-separation notes (I love IMDB!):
There was one dancing scene in "Wives and Daughters" in which the gentleman of the lead couple was, I am sure, the same uncredited fellow who led a dance scene in one of the '90s Austen films. I'm just not sure which one.
I'm always happy to see Robert Hardy in things, so his General Tilney was one of the redeeming points in Northanger Abbey.
Nicholas Farrell was both Edmund Bertram in "Mansfield Park" and Teddy Bingham in "The Jewel and the Crown"...as well as young Aubrey Montague in "Chariots of Fire."
A Lady Catherine de Bourghish Lady Cumnor must have come easily to Barbara Leigh-Hunt, who played the waspish Lady Catherine in 1995's "Pride and Prejudice."
"Mansfield Park" presented a somewhat amusing juxtaposition: Sir Thomas Bertram was played by Bernard Hepton, whom I know as Thomas Cranmer in "The Six Wives of Henry VIII" in which Angela Pleasance, MP's Lady Bertram, had played Catherine Howard.
Posted by Valerie (Kyriosity) at 7/04/2005 01:43:00 PM • • Permalink
---
Links to this post:
---
Home