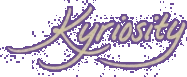 (KE'RE OS'I TE) N., A LONGING TO LOOK
INTO THE THINGS OF THE LORD [C.1996 < GK.
KYRIOS LORD + -ITY; IMIT. CURIOSITY]
Visit The Old Kyriosity Shop

Saturday, July 23, 2005 AD

Happy Birthday, 'Harry'
Daniel Radcliffe, the young man who plays Harry Potter in the movies, turned 16 today (HP's b-day is July 31). I finished listening to the 19-hour audio version of HP and the Half-Blood Prince at half past midnight last night, even knowing I had to set the alarm for 5:30 this morning. Whew...now I can go back and read all those spoilers I've been so fanatically avoiding.

Sora, by the way, has a post on "The Gospel in Harry Potter" that I highly recommend. Also, there's a good, spoiler-filled (you have been warned!) discussion going on at Barlow Farms. In case anyone's wondering, I agree with Pentamom's take in comment 16.
Posted by Valerie (Kyriosity) at 7/23/2005 05:28:00 PM • • Permalink
---
Links to this post:
---
Home