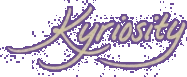 (KE'RE OS'I TE) N., A LONGING TO LOOK
INTO THE THINGS OF THE LORD [C.1996 < GK.
KYRIOS LORD + -ITY; IMIT. CURIOSITY]
Visit The Old Kyriosity Shop

Saturday, July 09, 2005 AD

The Hair! The Hair! The Huge, Horrible, Hideous Hair!
Was it Jonathan Barlow who noted that filmmakers, when attempting historical accuracy, will likely still be betrayed by the current fashion for eyebrows, leaving their movies with a dated look despite their best intentions? Well, the people responsible for "Persuasion" seem to have been very zealous in their attempts to avoid such subtle inconsistency. No one would ever notice the actresses' eyebrows under the enormous bouffant coiffures with which they were afflicted! And half the costumes look as if they were made from polyester. The whole production screams "1971!" as loud and brazen as it could be screamed.

And what was that geriatric creature doing cast as Anne? Emma Thompson, too, was a decade older than the Austen heroine she played, but 37-year-old Anne Firbank could have passed more easily for a character ten years her senior than for 27-year-old Anne Elliot. (And I note here that I am 37, and therefore can have nothing against the age in principle.) Not to mention that she got the part all wrong. No one could believe this Miss Elliot capable of being persuaded by anyone, even eight and a half years ago. She was far too much the self-confident patrician. And I'd like to have smacked her every time she wrinkled her brow in such a way as I suppose was supposed to make us sympathetic to her, but merely made her look idiotic.

As for Captain Wentworth, I didn't feel very strongly one way or another, but I'd certainly rather look at Ciarán Hinds. (Yes, I know it's shocking, but I do have my shallow side!)

The two performances I liked best were Captain Harville and Mrs. Croft. And I liked Mrs. Croft in the '95 production, so I was surprised to see a rather different portrayal of the character that I liked as well.

Six Degrees:
Admiral Croft was performed by the actor who played the major in "The Duchess of Duke Street," and I confess it was hard to get past that. Unfortunately, I think he played the two men much the same, which worked much better in the major's case than in the admiral's.
Henrietta Musgrove was Violet Effingham in "The Pallisers."
Posted by Valerie (Kyriosity) at 7/09/2005 07:57:00 PM • • Permalink
---
Links to this post:
---
Home