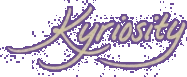 (KE'RE OS'I TE) N., A LONGING TO LOOK
INTO THE THINGS OF THE LORD [C.1996 < GK.
KYRIOS LORD + -ITY; IMIT. CURIOSITY]
Visit The Old Kyriosity Shop

Friday, June 03, 2005 AD

Imitation: It's the Real Deal
The May 1 installation in Doug Wilson's current series on marriage blew me away. It has applications to far more than marriage. It also makes me want to scream, "THIS IS WHERE MY WHOLE LIFE HAS GONE WRONG!!!"

But some things are starting to go right. Mr. Wilson mentions that community has a lot to do with imitation, and though my new church community is small, among its leaders and members are many well worth imitating. I only wish there were more opportunity to see and osmosify more of their day-to-day lives.

Christ Church has generously been making about the most recent two months' sermons available, so this one should be up for about three or four more weeks. The whole series has been excellent, but this is the message that (so far) has struck me most powerfully.
Posted by Valerie (Kyriosity) at 6/03/2005 04:49:00 PM • • Permalink
---
Links to this post:
---
Home