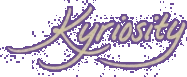 (KE'RE OS'I TE) N., A LONGING TO LOOK
INTO THE THINGS OF THE LORD [C.1996 < GK.
KYRIOS LORD + -ITY; IMIT. CURIOSITY]
Visit The Old Kyriosity Shop

Saturday, June 18, 2005 AD



I Recorded a Song for Y'all


Tim's recent doings have inspired me, so I downloaded Audacity and did a simple, rough, one-track recording of a song I wrote in '97. Unfortunately, I realized I have no way of uploading it, and therefore no way of sharing it with you. So that was rather a waste of time, eh? Someday,

someday

I will have my very own functional computer again! Of course if somebody could recommend a freebie file-sharing site that can handle a 3MB MP3, I could give that a whirl....
Posted by Valerie (Kyriosity) at 6/18/2005 07:15:00 PM • • Permalink
---
Links to this post:
---
Home