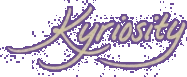 (KE'RE OS'I TE) N., A LONGING TO LOOK
INTO THE THINGS OF THE LORD [C.1996 < GK.
KYRIOS LORD + -ITY; IMIT. CURIOSITY]
Visit The Old Kyriosity Shop

Sunday, June 12, 2005 AD



Exceedingly Diverted


I know that some of my friends are bored with Doug Wilson's "Moscow Diversity Cleansing" series, but must confess I find it exceedingly diverting. Perhaps it is because I no longer own a television, and am thereby getting my fix of comedy or drama (haven't decided yet which it is...perhaps both). The latest howler comes from one of Mr. Wilson's opponents who calls the practice of community members boarding students from New Saint Andrew's College a "lucrative business."

Ah, yes...I remember the halcyon days when my mother rented a room to local college students. More particularly, she rented them

my

room. I had moved out my junior year, and my mom, who was, for all intents and purposes, a widow trying to make ends meet, got big ol' dollar signs in her eyes and placed an ad with the Towson State housing office. Hoo boy, she started livin' high off the hog then! Got so spoilt that when her 19-year-old ingrate daughter decided that a year away from free room and board was enough, I got stuck sleeping in the basement. She was really raking in the dough in the months when D., the student who lived with us the longest, was broke and couldn't pay his rent. The agreement was for room only -- the students were supposed to get a meal plan at the school -- but mom regularly fed D., and did his laundry, too. And (at no extra charge!) even scolded him for not changing his underwear often enough (which she knew on account of the laundry thing).

Actually, my mom did garner great wealth from this arrangement. She gained another son. D. still calls her "Mom." And she gained a daughter-in-law when D. got married. I suspect it's the same for many families in Moscow who open their homes to NSA students: they gain sons and daughters and brothers and sisters; their children gain uncles and aunties; and they reap the rich rewards of serving Christ through His people. But I somehow doubt that the critics of Christ Church would understand that kind of lucre.
Posted by Valerie (Kyriosity) at 6/12/2005 01:31:00 AM • • Permalink
---
Links to this post:
---
Home