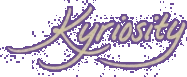 (KE'RE OS'I TE) N., A LONGING TO LOOK
INTO THE THINGS OF THE LORD [C.1996 < GK.
KYRIOS LORD + -ITY; IMIT. CURIOSITY]
Visit The Old Kyriosity Shop

Saturday, May 14, 2005 AD



Xtra: Yeast Zoned!


(OK, so

you

come up with a better XYZ title!)

Doug Wilson asks, "And when have you heard of yeast being successfully zoned to just one end of the loaf?" Well, that sort of happens to me every once in a while when I forget to put the kneading blade into the bread machine, and I get a nice brick of unmixed, unleavened ingredients. But that's not what he had in mind, I suppose.

The funnier thing I thought of in regard to that post (and his previous one) was Mr. Wilson's April Fool's Day joke. If'n it had only been true, then his enemies would have loved his idea of equal application of the zoning regs thereunto!

Of course the truly vexing thing about this mess going on in Moscow is that it seems to have distracted Mr. Wilson from writing more of the stuff I like to read...such as his parables. And it's all about

me

, right?
Posted by Valerie (Kyriosity) at 5/14/2005 07:49:00 PM • • Permalink
---
Links to this post:
---
Home