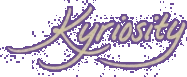 (KE'RE OS'I TE) N., A LONGING TO LOOK
INTO THE THINGS OF THE LORD [C.1996 < GK.
KYRIOS LORD + -ITY; IMIT. CURIOSITY]
Visit The Old Kyriosity Shop

Monday, May 30, 2005 AD

They're All Coming to Visit

Me!


Frommer's has named Baltimore one of its top 10 up-and-coming vacation destinations. (Link via fellow Charm City denizen Gregory.) If you want to be trendy, but are cheap, I now have two, count 'em,

two

guest rooms just

begging

to be occupied by company. And a couch and plenty of floor space for extra urchins. Gimme a holler if you're interested. Um...if I semi-sorta know you...like we read each other's blogs or something. The whole wide Interweb is

not

to consider itself invited!
Posted by Valerie (Kyriosity) at 5/30/2005 02:59:00 PM • • Permalink
---
Links to this post:
---
Home