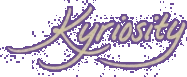 (KE'RE OS'I TE) N., A LONGING TO LOOK
INTO THE THINGS OF THE LORD [C.1996 < GK.
KYRIOS LORD + -ITY; IMIT. CURIOSITY]
Visit The Old Kyriosity Shop

Saturday, May 14, 2005 AD



Pray for Me, Brethren and Sistern


More specifically, pray for my poor 'puter. I got it back two Sundays ago from my friend Leslie, who had reassembled it for me. It was dead again the next morning, so I've been back on my brother's laptop, which is exceedingly unstable and has none of the software I need to use. So Mike has flown all the way from Texas just to fix it (well...something about a job interview, too, but we know what's the

really

important part of the trip). So I'm going to load it all in the car tomorrow, and sometime between church and fellowship dinner and whatnot, Mike's going to lay hands on it (maybe I could get the elders to pray, too, but I'm thinking that anointing with oil would probably not help matters). I told him we could skip it, since it's the Sunday and all, but he likened my plight to having had my horse fall into a ditch, and assured me that its rescue would therefore be lawful Sabbath activity. Anyway, it being Pentecost and all, I'm thinking a nice little miraculous cyberhealing wouldn't be too much to ask for, would it?
Posted by Valerie (Kyriosity) at 5/14/2005 11:33:00 PM • • Permalink
---
Links to this post:
---
Home