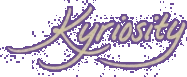 (KE'RE OS'I TE) N., A LONGING TO LOOK
INTO THE THINGS OF THE LORD [C.1996 < GK.
KYRIOS LORD + -ITY; IMIT. CURIOSITY]
Visit The Old Kyriosity Shop

Saturday, May 21, 2005 AD



The Inner Know-It-All in Each of Us


I like this post on the Top 10 Things Everyone Thinks They Can Do. I italicized the ones I claim:



10. Write song lyrics

(This is the hardest one for me to joke about, because I really do think I can do this, and yet I also have great doubts about my ability to do this.)



9. Design a website

(As long as you don't want anything technically current.)

8. Write a children's book (Not unless it was one of those toddler board books. I could probably write ten pages on color -- "Red Blue Yellow Green Orange White Brown Pink Purple Black" -- or on animals -- "Dog Cat Horse..." -- you get the picture.)

7. Write movie reviews (Whenever I try to write about a movie or a book, I usually preface my remarks with a disclaimer that I don't know how to write about film or literature.)



6. Be a comedian

(Well I

am

officially the funniest chick at my workplace.)



5. Design a church service

(Happily, if I did, it'd look a lot like CREC's, so I can stay out of trouble there.)

4. Work in sports (Hahahahahahaha!)



3. Write Top 10 lists

(I had one published in ETC.)



2. Write a book

(I'm sure I've got one in me somewhere.)



1. Name anything

(Except, evidently, Tim Challies' book review circle thingie.)

I guess that gives me a know-it-all score of 7/10. How 'bout you?

I would add one to the list: Everyone thinks they can be a graphic designer and a copyeditor. Oh how many times I've bit my tongue when I've wanted to say to colleagues, "Leave me alone and let me do my job because

you are not good at it!

" Can you think of other additions?
Posted by Valerie (Kyriosity) at 5/21/2005 03:05:00 PM • • Permalink
---
Links to this post:
---
Home