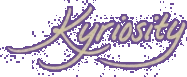 (KE'RE OS'I TE) N., A LONGING TO LOOK
INTO THE THINGS OF THE LORD [C.1996 < GK.
KYRIOS LORD + -ITY; IMIT. CURIOSITY]
Visit The Old Kyriosity Shop

Sunday, May 08, 2005 AD



Fun!


Eleanor (Craigellachie) and her hubby, Rich, were in town for a meeting this weekend. I met with them yesterday afternoon, and we had dinner together and wonderful conversation. This morning I picked them up for church, so they got to be there when I took my membership vows. They were disappointed that, unlike with a wedding, there was no opportunity to "speak now or forever hold your peace." I'm trying not to take it personally that we sang Psalm 64 right after my vows -- a rather mournful and imprecatory response to receiving a new member! ;-P We had to scoot pretty quickly after worship to get them back to their hotel so they could catch their ride to the airport.

Oh how I wish I could stretch out some of the past month's social opportunities! Too many too-brief conversations. I with I could turn these microwave meetings into slow-simmering crock-pot occasions. Not that I'd give up a single one of them as they were!

By contrast, having lunch today at Angie and Terry's was a much more emotionally leisurely affair. It was one more bead on an ever-lengthening string of times spent with them and Eric and Melissa -- a precious time, to be sure, but not one that required quite so much significance packed into it.

I have been blessed this weekend. Thanks be to Him from whom all good gifts come!
Posted by Valerie (Kyriosity) at 5/08/2005 09:14:00 PM • • Permalink
---
Links to this post:
---
Home