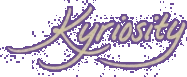 (KE'RE OS'I TE) N., A LONGING TO LOOK
INTO THE THINGS OF THE LORD [C.1996 < GK.
KYRIOS LORD + -ITY; IMIT. CURIOSITY]
Visit The Old Kyriosity Shop

Monday, May 30, 2005 AD



Embarking on an Adventure


I am going to attempt to install my curtain rods. This involves drilling holes in my walls. My newly patched, painted, pristine walls. I confess to being rather trepid about this. I am posting about it so that I'll have to go through with it and then report the results. Hopefully it will go better than my first adventure today -- hunting high and low for my WinXP disc, giving up on finding it, putting out an SOS for a loaner, making a 45-minute round trip to a friend's house to borrow theirs, and finally finding mine...in the CD drive. And then I couldn't install it, anyway. Verily the Good Lord doth haveth a sense of humor! But I am procrastinating....

Question: When drilling a hole for a plastic wall anchor, is the hole supposed to be as deep as the anchor, or will the anchor go in further as I put the screw in?
Posted by Valerie (Kyriosity) at 5/30/2005 05:55:00 PM • • Permalink
---
Links to this post:
---
Home