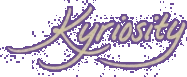 (KE'RE OS'I TE) N., A LONGING TO LOOK
INTO THE THINGS OF THE LORD [C.1996 < GK.
KYRIOS LORD + -ITY; IMIT. CURIOSITY]
Visit The Old Kyriosity Shop

Saturday, May 28, 2005 AD



DVDs on Order


Wanting to fulfill my Columbia House commitment (and never, ever do business with them again) and to create a small stash of films I won't mind watching repeatedly, I ordered the following DVDs this morning:
The Jewel In The Crown -- I watched this in its initial run (well, the bits I could see between poor reception, missed episodes, and my poor mother's constant requests for translation of the British accents) but haven't seen it since.
Luther -- There were some things about this film that annoyed me (most notably that Mr. Fiennes was just too pretty for the role), but it's worth having all the same.
Wives and Daughters -- Can you believe I haven't seen this yet?
Babette's Feast -- Such a wonderful film about grace.
Jane Austen: The Complete Collection -- This has all the old BBC productions -- Emma, Mansfield Park, Northanger Abbey, Persuasion, Pride and Prejudice, and Sense and Sensibility -- most of which I've never seen.
Posted by Valerie (Kyriosity) at 5/28/2005 10:52:00 AM • • Permalink
---
Links to this post:
---
Home