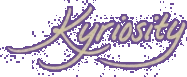 (KE'RE OS'I TE) N., A LONGING TO LOOK
INTO THE THINGS OF THE LORD [C.1996 < GK.
KYRIOS LORD + -ITY; IMIT. CURIOSITY]
Visit The Old Kyriosity Shop

Tuesday, April 26, 2005 AD

Updates
In case anyone's still wondering, I am very much out of the depression I was in a few weeks ago. I guess my follow-up post was a little obscure, so let me reiterate with a little more clarity that the kindness of my friends at CREC was an effective balm to my sin-sick soul. God used them to display His love to me in just the way I needed it. I continue to be amazed by the blessing this dear congregation has been to me. Speaking of which, I will finally be interviewed by the session next Tuesday evening, and (I think this is the plan) received into membership the following Sunday. I can hardly wait to become an official member.

A conversation last evening:
Me: Eric said he and one of the other elders would come interview me next Tuesday.
PWSNBN: Good.
Me: Yeah, that oughta give me time to hide my Buddha statue.
PWSNBN: And be sure to erase that pentagram from the floor, too.

In other news, my mommy's arriving tomorrow evening for a week. My house is a bit messy (and that's a bit of an understatement), so I've taken off starting tomorrow so I can get things a bit in order before she arrives. I've been under the weather, so I didn't get much done this weekend toward that end. I still need to get the essentials scrubbed (bathroom, kitchen) and some furniture moved around (bedframes, mattresses, bookcases, dressers) so she can have the hard-as-a-concrete-block mattress she likes and I can have the other one. I may have to wait 'til she get here for some of it, since I don't think I can do the bookcases on my own.

Speaking of Mom, this motto, found in a comment on Scott's blog, fits her to a tee: Use it up. Wear it out. Make do. Do without. Perhaps I'll work it up as an embroidery design for her kitchen in a moment when I'm bored with working on her bedspread (I'm on my sixth square...126 to go!). UPDATE, 6:50 p.m.: OK, so I already started fiddling with it!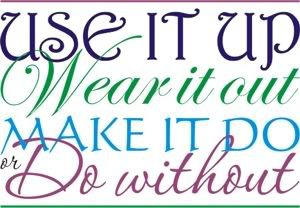 If anyone would like me to e-mail the embroidery pattern in a PDF file, e-mail me (valerie-at-kyriosity-dot-com) with the word EMBROIDERY in the subject field. You'd have to use some kind of transfer paper to get it onto the fabric, but I could send the outline to trace. It'll be a couple weeks, at least, but I'd love to share it if there's any interest!
Posted by Valerie (Kyriosity) at 4/26/2005 05:56:00 PM • • Permalink
---
Links to this post:
---
Home