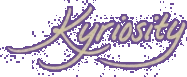 (KE'RE OS'I TE) N., A LONGING TO LOOK
INTO THE THINGS OF THE LORD [C.1996 < GK.
KYRIOS LORD + -ITY; IMIT. CURIOSITY]
Visit The Old Kyriosity Shop

Thursday, April 14, 2005 AD

Snippets of Relevance, Old and New
Paulo makes note of the Heliand, "an epic poem retelling the Bible as a Germanic saga, transforming church-speak into rephrased Saxon. For example, 'Lord, teach us to pray' was interpreted as 'reveal to us the runes.' And we thought the TNIV was bad."

Thomas has a photo of a sidewalk chalk advertisement for "KICK-A** WORSHIP" at Kansas University's Danforth Chapel. Well, if you're going to approach the Lord God Almighty with such an irreverent attitude, I suppose you'd better be prepared to get your a** kicked.
Posted by Valerie (Kyriosity) at 4/14/2005 12:35:00 AM • • Permalink
---
Links to this post:
---
Home