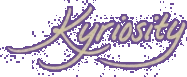 (KE'RE OS'I TE) N., A LONGING TO LOOK
INTO THE THINGS OF THE LORD [C.1996 < GK.
KYRIOS LORD + -ITY; IMIT. CURIOSITY]
Visit The Old Kyriosity Shop

Wednesday, April 13, 2005 AD

On a Mean Streak
Scene One
This morning I stopped by the grocery store on the way to work. As I walked in, I noticed my neighbor and close family friend Miss Gloria with her back turned to me. I reached out and slowly started pulling her cart away from her. It took her a second, but she reached out and put her hand on it. I kept pulling. Finally she turned around and was about to get indignant when she saw it was me. I got her good!

Scene Two
Joanna to Fred (who's wearing a loud yellow T-shirt): You look bright today, Fred.
Fred to Joanna: Thanks.
Me, hollering from my desk: Just to be clear, she's only talking about your clothes!

Hehe...that's me...spreading joy wherever I go!
Posted by Valerie (Kyriosity) at 4/13/2005 02:20:00 PM • • Permalink
---
Links to this post:
---
Home