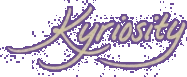 (KE'RE OS'I TE) N., A LONGING TO LOOK
INTO THE THINGS OF THE LORD [C.1996 < GK.
KYRIOS LORD + -ITY; IMIT. CURIOSITY]
Visit The Old Kyriosity Shop

Thursday, April 21, 2005 AD

Make the First Move
"I never wish to offend, but I am so foolishly shy, that I often seem negligent, when I am only kept back by my natural awkwardness."

A while back, a couple friends of mine met at a conference. Each of them later reported back to me, "I found so-and-so a little cool." Almost the exact same words from each about the other. I wish I could go back and ask them both, "Well, were you warm first, or did you warily wait to gauge the other's reaction?" If nobody makes the first move, smiles the first smile, reaches out for the first handshake, warmth will most assuredly not ensue.

This is one of those things I need constant reminders of. Being pathologically introverted myself, I know the temptation not to make the first move. I like to hide in the corner, and then complain that no one was nice to me. I like to start out assuming that no one will like me, and then pout when no one does. But in Christ that's not a righteous option. My shyness is too often nothing more than piggish self-protection. How many times have others come away from an encounter with me thinking, "She was rather cold"? If courage is fire (as Mr. Disraeli evidently said), then a little social courage could go a long way toward warming not only myself, but those I meet.
Posted by Valerie (Kyriosity) at 4/21/2005 02:59:00 PM • • Permalink
---
Links to this post:
---
Home