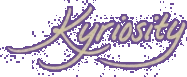 (KE'RE OS'I TE) N., A LONGING TO LOOK
INTO THE THINGS OF THE LORD [C.1996 < GK.
KYRIOS LORD + -ITY; IMIT. CURIOSITY]
Visit The Old Kyriosity Shop

Sunday, April 10, 2005 AD

Follow-Up to Post on Georgia Woman
First, I understand the skepticism. I wrote my first post and then waited 'til the next day to actually publish it because I was a little wary myself. WND seemed like a reputable enough source, so once they had the story, I thought it would not be irresponsible to proceed. And if you will note in the comments to the previous post, a paper in LaGrange did finally cover the story. An Atlanta television station also covered the story. so I hope that will be official enough for folks to believe that Mrs. Magouirk is a real person at the center of a real familial dispute regarding her care.

Second, I received the following from a reader of this blog:
Dear Valerie, I have been reading your blog for about a year now and enjoy it very much. Of course, you do not know me, I don't have a blog to refer you to, so you will have to take what I say with a grain of salt. Which is probably wise anyway since I am not immediately involved in the situation in Lagrange. I do live here, however, and know someone who knows the family. And so I feel a bit like I'm playing the game telephone (where you whisper a message to someone and by the end of the line it's totally garbled.) However it appears to me that the story is not as simple as it seems.

According to one family member, there never was a feeding tube. The grandmother was on an IV but it was making her swell and they removed it and tried to feed her by mouth. However, she refuses most everything and spits it out. The family also says she is suffering from dementia which I don't believe the article mentioned. They moved her to hospice because she has an inoperable aortic aneurysm that will probably kill her (and surgery most definitely would).

From my perspective, the granddaughter has been taking care of her grandmother for some time. The nephew comes into town and turns it into a big media story. Now it could be that he is right and the granddaughter is wrong. But I don't think the whole story has been told. And according to our local paper (Lagrange Daily News), the family (including the nephew) has agreed to abide by the decision of 2 out of 3 doctors evaluating the case.

Since all of my info is hearsay, it is probably not very helpful. And I am not blaming you in any way from putting this story on your blog. I just think it may not be as it appears right now in the media. Could be wrong though.
The writer also noted that "prayer for the family and area churches would be helpful. An elder in my church has some connection with the family and greatly desires to counsel them with wisdom." And she asked to remain anonymous, which I will respect.

Third, it has been reported that Mrs. Magouirk has been taken from the hospice to a hospital where she is now receiving nourishment and fluids. So there appears to be some, at least temporary, resolution to the issue.

Fourth, maybe I shouldn't have said anything about it in the first place, but I didn't write about it to be a source of your daily news. That's not the kind of blogger I am. I wrote about it because it upset me. I'm a journaler, not a journalist. Perhaps that means I shouldn't comment on current events. I don't want to be irresponsible, but neither to I wish to wait for a major news outlet to define reality for me. I'm not sure what standard I should set for myself in that regard. I'm open to cogent recommendations. *Mark your calendars! On April 10, 2005, Kyriosity actually solicited advice!* Just one caveat: Please do not leave a post without your full name, unless you are sure I already know it.
Posted by Valerie (Kyriosity) at 4/10/2005 08:37:00 PM • • Permalink
---
Links to this post:
---
Home