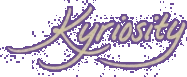 (KE'RE OS'I TE) N., A LONGING TO LOOK
INTO THE THINGS OF THE LORD [C.1996 < GK.
KYRIOS LORD + -ITY; IMIT. CURIOSITY]
Visit The Old Kyriosity Shop

Tuesday, April 19, 2005 AD
Conference Social News
Had dinner with Robert and Kim on Friday.
Met Julie Austin and Billy Joe Jim Bob Freddie George Bubba Howard and their respective spouses (and Julie's kiddos) Friday evening.
Had dinner with my would-have-been landlords on Saturday.
Had breakfast with Amy and fam on Sunday (actually, I'd already eaten but sat with them after they came down to eat)
Drove Doug Phillips and his assistant and daughter to worship. I didn't know for sure I'd be doing this 'til 6 a.m., so I'd done some early-morning scurrying to empty my car of clutter and trash, run to the gas station to vacuum, and give it a once-over with Windex. I knew it wasn't up to Vision Forum's we-look-like-we-never-get-dirt-under-our-fingernails-even-when-we're-digging-for-dinosaurs standards. And then there's that dreadful rattle it's developed (I'm thinking tie rod ends), for which I kept apologizing. And of course Doug was very gracious about it, saying, "We call that character." And I dropped a name during the brief journey. And I took the wrong exit, necessitating more turns, producing more hideous rattles, but we made it in one piece and on time.
Sat with the Saenzes during worship
Easily spotted Kelly M's brother after the service (he was bewildered at how I might know him...his wife remembered Kelly mentioning me)
Attended the St. Peter third Sunday picnic. Surprised myself by being quite the social butterfly. Spoke with some St. Peter friends and quite a few visitors, including one young lady who asked, "Are you the Valerie from the squib?" Yep. Doug's assistant told me Doug was looking for me. Uh-oh...he's going to sue me endangering his daughter's life in my rattletrap of a car! No. He'd found out from RC that I was single, and wanted to pray for me. So he dragged RC over and they both prayed for me, and I was embarrassed, but, of course, deeply appreciative. RC said he's been praying not just that God will send me a husband, but that He'll send me a husband who will move me to St. Peter. (Uh-oh. If certain other people are praying otherwise, I hope the Lord doesn't split the difference and send me to D.C.!) Was one of the last to leave the picnic, and was therefore available to be invited, along with another visiting family, to the Cs' home for more munching and fellowship. We were later joined by the Rs, who brought along another family of visitors. A bonfire and good conversation and singing ensued.
Spent most of Monday being perfectly lazy, then went to the Sprouls' for dinner. Here's a view from their front porch, courtesy of Doug's blog. And that doesn't even begin to capture it. RC had to go and ask if I'd been online via the hotel's business center. Hadn't occurred to me 'til then!
My plans for tomorrow (tonight, really) are to attend the Tuesday evening Bible study. I may head home straight afterward to save the cost of another hotel night. Of course I'd have to check out in the morning and find someplace to amuse myself the rest of the day. And since I've already been up far too late tonight, and am having this car trouble, perhaps it would be foolish to attempt an all-night drive tomorrow. We shall see....

The kindness of the St. Peter folks has been remarkable. The congregation provided plentiful palate-pleasing provender for the superfluity of picnickers. And the sundry individual hospitalities with which I have been blessed have been very much appreciated. I haven't had any second thoughts about my decision not to move, and I am eager to be back worshipping with my friends at CREC next Sunday, but I sure do wish I could be in two places at once. I will have to find more excuses to visit!
Posted by Valerie (Kyriosity) at 4/19/2005 01:19:00 AM • • Permalink
---
Links to this post:
---
Home