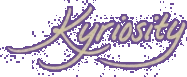 (KE'RE OS'I TE) N., A LONGING TO LOOK
INTO THE THINGS OF THE LORD [C.1996 < GK.
KYRIOS LORD + -ITY; IMIT. CURIOSITY]
Visit The Old Kyriosity Shop

Tuesday, April 12, 2005 AD

Beholding Is Becoming
This is part of my sermon notes from this past Sunday. I posted this in a comment on Amy's blog, but thought I'd post it here, too. The text was Romans 12:2, "Don't be conformed to the world, but be transformed by the renewing of your mind."
We're not to be squeezed into the world's mold. This age has a pattern of thinking and living, and desires us to conform to it. Look back to Romans 1:20ff to see what the world's pattern is like -- substituting foolishness for grateful submission to God; giving themselves to stupidity; exchanging truth for lies. Christians tend to be oblivious to the fact that the cultural influences of our day want this for us.

God says we should instead be shaped by who we are and what He's making us -- be metamorphosed into a different appearance by the renewal of our minds. Why do our minds need renewal? It's not just a lack of information. Teaching the natural man just makes him a more effective, efficient, creative, convincing sinner. The Bible says we need change, not information. Ephesians 4:22 says, "Be renewed in the spirit of your mind." This refers to a change of mindset, outlook, demeanor, viewpoint. Titus 3:5 says that we are saved through washing and renewing (the only other place in the NT where that word is used) by the Spirit. God is beautifying His new creation. The Spirit makes us into what we already are -- holy and righteous. 2 Corinthians 3:18 -- Beholding is becoming. We are transformed by gazing at the glorified Christ. We are awed by the beauty of our Bridegroom and we long for Him. That's what gives us perseverance. Do that, and you will know what else to do.
Eric went on to emphasize the promise of transformation and sanctification. We don't know how, but we know that God will make it happen. Some of us need lots of reminders of that!
Posted by Valerie (Kyriosity) at 4/12/2005 11:46:00 AM • • Permalink
---
Links to this post:
---
Home