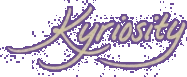 (KE'RE OS'I TE) N., A LONGING TO LOOK
INTO THE THINGS OF THE LORD [C.1996 < GK.
KYRIOS LORD + -ITY; IMIT. CURIOSITY]
Visit The Old Kyriosity Shop

Tuesday, March 15, 2005 AD

When Adam Fell
I wrote this one about four years ago. I happened across it today while looking for something on an old forum.

The only tune I could find at the time to fit it was "Vater Unser," which I still think works pretty well. "Melita" and "St. Petersburg" work, too. Anybody have other suggestions or an opinion on which works best? The meter's 88.88.88. Here's the Cyberhymnal's search-by-meter page. Hmmm, I like "Barragh" quite a bit...never heard it before. Nor "Middlesex." And I can't stand listening any more. Those awful MIDIs are physically painful to my ears!

When Adam fell, all men in him
Received the curse of death for sin.
The Second Adam bore the blame
For those who love and trust His name.
Into this world of dust and strife
He came to bring eternal life.

When Adam fell, God cursed the soil
With thorn and thistle, sweat and toil.
The Second Adam sweat like blood
And drank the wrathful will of God.
His hands and feet with nails were torn;
His head was crowned with cursÚd thorn.

When Adam fell, God set a guard
Of cherubim and flaming sword.
The Second Adam did prevail
To rend the separating veil
On which the cherubim were sewn,
Admitting us before God's throne.
Posted by Valerie (Kyriosity) at 3/15/2005 03:37:00 PM • • Permalink
---
Links to this post:
---
Home