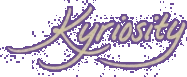 (KE'RE OS'I TE) N., A LONGING TO LOOK
INTO THE THINGS OF THE LORD [C.1996 < GK.
KYRIOS LORD + -ITY; IMIT. CURIOSITY]
Visit The Old Kyriosity Shop

Sunday, March 20, 2005 AD

This Is Not Looking Promising to Me
I just watched the trailer and poked around the IMDB info on the new film adaptation of Charlie and the Chocolate Factory. My first impressions:

1) The music is really, really annoying. If you're going to do music at all, and you can't do better than the original, then do the original.
2) Johnny Depp as a creepily effeminate Wonka. What...was Michael Jackson too busy with his trial?
3) Helena Bonham Carter as Mrs. Bucket? I just don't even know what to say about that. I'm just not seeing it.
4) I'm willing to be proved wrong, but I'm not optimistic about this one coming anywhere near to replacing the 1971 version in my affections. I've watched the 30th anniversary DVD and all its features over the past week and I love it more than ever.

Our sermon this morning was on Luke 8:
"Now the parable is this: The seed is the word of God. Those by the wayside are the ones who hear; then the devil comes and takes away the word out of their hearts, lest they should believe and be saved. But the ones on the rock are those who, when they hear, receive the word with joy; and these have no root, who believe for a while and in time of temptation fall away. Now the ones that fell among thorns are those who, when they have heard, go out and are choked with cares, riches, and pleasures of life, and bring no fruit to maturity. But the ones that fell on the good ground are those who, having heard the word with a noble and good heart, keep it and bear fruit with patience."
And that's what the Chocolate Factory is all about, Charlie Bucket.
Posted by Valerie (Kyriosity) at 3/20/2005 08:35:00 PM • • Permalink
---
Links to this post:
---
Home