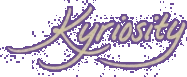 (KE'RE OS'I TE) N., A LONGING TO LOOK
INTO THE THINGS OF THE LORD [C.1996 < GK.
KYRIOS LORD + -ITY; IMIT. CURIOSITY]
Visit The Old Kyriosity Shop

Sunday, March 20, 2005 AD

Learning from Others' Experience
Miss Jones's experience with eHarmony has cured me of any thought I might have had of going that route myself. Not that I was having much of a thought along those lines.

Did I ever tell you about the time I did try an online matchmaking service? This was about seven years ago, I'd guess -- before I swallowed the TULIP bulb -- and I joined for three months. I actually had a pretty good correspondence going with one fellow. He called himself a hypercalvinist (at the time I had no idea that was an actual term -- I thought he was just being cute) but he didn't act like one -- didn't question the salvation of my then-Arminian soul, for instance. We spent most of our correspondence arguing theology, of course, and I'm the one who finally said, "You know, our disagreement here is too deep for us to consider taking our relationship any further." (Hey, you know you're a hopeless romantic when theological compatibility tops your list of necessary qualitities in a potential mate.) Of couse we said we'd still correspond, and of course he quickly disappeared off the face of the earth. Once I became Reformed, I wished I could have told him, but I had no way of contacting him. And he has a fairly common name, so tracking him down is unlikely, though that didn't stop me from just spending an hour Googling with no results but an 8-year old e-mail address. Just one of those "I wonder whatever happened to?"s.
Posted by Valerie (Kyriosity) at 3/20/2005 02:39:00 AM • • Permalink
---
Links to this post:
---
Home