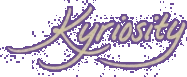 (KE'RE OS'I TE) N., A LONGING TO LOOK
INTO THE THINGS OF THE LORD [C.1996 < GK.
KYRIOS LORD + -ITY; IMIT. CURIOSITY]
Visit The Old Kyriosity Shop

Thursday, March 10, 2005 AD

Irresistable Grace
As most of you who have been paying the slightest bit of attention know, I've been planning to move to Bristol to join St. Peter Presbyterian Church, home of the Highlands Study Center. In the meantime, for the past year I've been attending Christ Reformed Evangelical Church. Well, come to find out, I can't leave. This congregation has been so wonderful to me and for me that the thought of not being able to be a part of it simply was not to be borne. So it was all quite Calvinistic -- not my choice, but CREC's. Folks here have been gracious to me -- you might even say irresistably so -- ergo I've decided to stick around.

I plan to reevaluate things in six months to see if I've made the right decision, but in the meantime, I'm going to assume I'm staying. Not to be outdone, folks at St. Peter have also been gracious about my change of plans, and I continue to believe that it would be a good place for me. What I didn't expect was to find another good place closer to home. As good? I don't know. Maybe. Maybe not. Maybe better. No way of telling for sure. But the idea of chucking a year's worth of relationship-building to plunge into a less-known environment finally just seemed foolish.

Now I've got to scoot. Have to go to jury duty. Pray for me that I don't get picked for an actual jury!
Posted by Valerie (Kyriosity) at 3/10/2005 07:09:00 AM • • Permalink
---
Links to this post:
---
Home