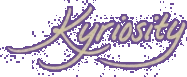 (KE'RE OS'I TE) N., A LONGING TO LOOK
INTO THE THINGS OF THE LORD [C.1996 < GK.
KYRIOS LORD + -ITY; IMIT. CURIOSITY]
Visit The Old Kyriosity Shop

Thursday, March 03, 2005 AD

HSC Conference Brochure
A PDF of the conference brochure (designed by moi) is now up on the Highlands Study Center website. Unlike the print version, it has the correct conference dates.

So far I know that Kim and Robert, Carmon (and...?), Kelly and Mike :-( and Kelly M are all at least tentatively planning to attend. Anybody else?
Posted by Valerie (Kyriosity) at 3/03/2005 12:53:00 PM • • Permalink
---
Links to this post:
---
Home