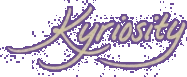 (KE'RE OS'I TE) N., A LONGING TO LOOK
INTO THE THINGS OF THE LORD [C.1996 < GK.
KYRIOS LORD + -ITY; IMIT. CURIOSITY]
Visit The Old Kyriosity Shop

Thursday, March 17, 2005 AD

'Doing the Next Thing'
Rick Saenz is fond of quoting Elisabeth Elliot's watchword, "Do the next thing." It occured to me today that this kind of "baby step" approach, which Rick most recently advocated applying to simple living, can apply to any kind of life change...any kind of obedience. And it can start at any point, even in the midst of backsliddenness.

That's where I am right now -- slidden right back into the quicksand of chaos that I've spent the last twentysome years trying to crawl out of and inevitably falling back into. My life is a disaster area. My house, my health, my spirit, my work are all in rather serious disarray. So I'm going to do one thing, make one small change, and see what happens, not worrying about the rest of it for the moment. The one small thing I've chosen is staying away from the junk food machine at work. There are days I live off candy bars. I leave the house without eating breakfast, I don't pack lunch, and I stay 'til all hours without anything for dinner. And the machine beckons. If I have to go without anything, so be it, but my hope is that I'll want to bring lunch, or at least go out and pick up something halfway decent. And if I want to bring something for lunch, then I'll find myself wanting to go to the grocery store and pick up supplies, and wash a few dishes to have something to prepare food in -- those will become the next "next thing."

I feel stupid (and ashamed) admitting my gross ineptitude at life, but what would be even stupider (and more shameful) would be for me to keep staring at the chaos in hopelessness instead of looking to Christ in hope and saying "Yes" to Him in even the very smallest of ways.
Posted by Valerie (Kyriosity) at 3/17/2005 09:24:00 PM • • Permalink
---
Links to this post:
---
Home